SCHEDULE
VINYASA
IRON YOGA
TESTIMONIALS
CORPORATE
KIDS
Move. Breathe. Balance. Flow.
"To perform every action artfully is yoga." - Swami Kripalu
Sally Mitchell, founder of Body Flows, is an experienced 200Hr RYT yoga teacher. She teaches yoga classes and privates, and leads corporate and group yoga events and retreats in Sonoma and Napa wine country and the San Francisco Bay Area.
Sally studied Vinyasa Flow Yoga with Vidya Heisel of Frog Lotus International in Costa Rica in 2010, and is inspired by many teachers from which she continues to learn, including Jason Crandell, Stephanie Snyder, Dharma Mittra, Joan Hyman and Anna Kyshynska.
Vinyasa Flow Yoga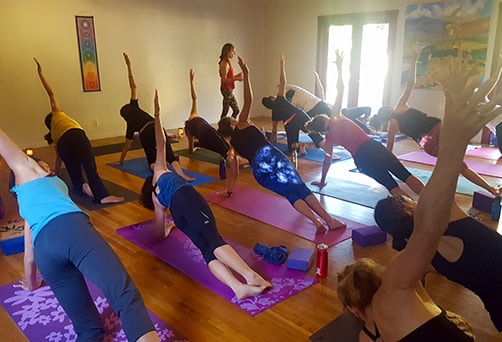 Vinyasa Flow Yoga consists of creative flowing sequences, combining movement with the breath, building strength, awareness and openness.
In Sally's classes, you will experience a safe yet challenging practice, where the flow of movement, breath, balance and focus become aligned, leaving you feeling relaxed yet energized.
All levels are welcome and encouraged as Sally provides modifications and options for varying abilities.
Her teaching style is grounded and intelligent yet intuitive and creative, balancing the physical practice with an inner focus and connection.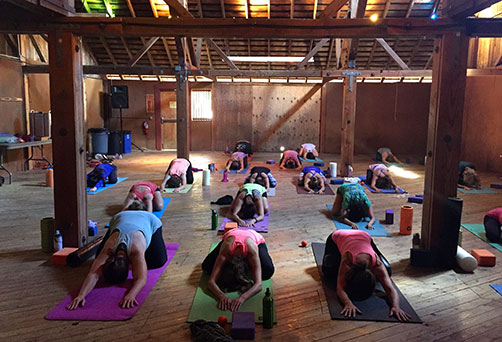 Sally truly feels grateful to have the opportunity to share the gift of yoga with others, inspiring transformation, empowerment and personal growth. She provides a supportive space to help people discover greater balance in their lives and a deeper sense of purpose.
Her intention is to allow you to gain more strength and openness in your body, more peace and calmness in your mind, a greater self awareness and the mind/body connection.
Additional benefits of yoga include improved strength, increased flexibility and range of motion, better circulation, release of toxins, and stress reduction.
Yoga Schedule
Sally enjoys teaching regular yoga classes in Sonoma, California, at the following locations.
Mondays - 9.45am-11am - Power Flow Yoga - Noble Yoga, Sonoma
Tuesdays - 8am-9am - Power Yoga - Park Point Health Club, Sonoma
Wednesdays - 9.45am-11am - Vinyasa Flow Intermediate - Noble Yoga, Sonoma
Fridays - 11am-12.30pm - Vinyasa Yoga and Essential Oils (first Friday of each month) - Body Flows, Sonoma
Learn more about Sally's classes and venues.
Body Flows, Private Studio, Sonoma, CA - Women's themed based vinyasa flow yoga classes for all levels, with pranayama, guided meditations and essential oils for chakra balancing healing. Held in beautiful zen-inspired private studio in Sonoma, CA. Limited spots available, max 6 people per class. Cost $20. Call us to apply and register! 917-913-1144.
Parkpoint Health Club, 19111 Sonoma Highway, Sonoma CA 95476
Noble Yoga, 17366 Hwy 12, Sonoma, California 95476
Yoga Community, 577 5th Street West, Sonoma CA 95476(sub teacher - check schedule)
Yoga Passion, 3243 Brown's Valley Road, Napa, CA 94558 (sub teacher - check schedule)
Sonoma Ashram, 1087 Craig Ave, Sonoma, CA 95476 (sub teacher - check schedule)
Yoga for Companies, Events, Weddings, Parties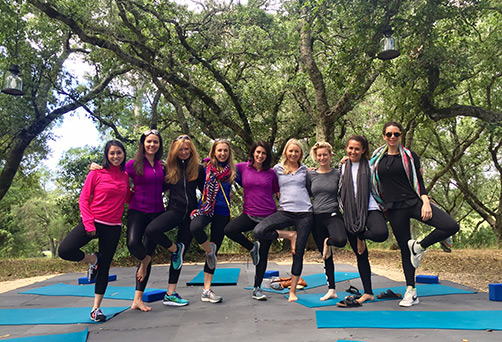 Partnering with local Sonoma wineries and retreat centers, Sally loves teaching yoga outdoors overlooking the vineyards, followed by hiking and wine tasting, and attracts people from all over the country to the desirable and stunning locations of Sonoma and Napa.
Yoga is a wonderful way to celebrate your birthday, a bachelorette party, a wedding weekend or help your employees relax and reduce stress during a company event or a family or friend gathering.
Classes can be customized for your group and can be outdoors in beautiful nature, such as at a local winery in Sonoma or Napa wine country, or indoors at your chosen and convenient location. We look forward to working with your group!