WELLNESS PROGRAMS
MINDFULNESS
LEADER
RETREATS
OFFICE YOGA
INQUIRY
Corporate Wellness Classes and Workshops
Helping teams stay connected, mindful and focused, whilst working remotely, and in-person classes and workshops are also available.
We are grateful to offer Corporate Wellness Classes, Workshops and Retreats for you and your team, either in person or online. Mindfulness, meditation, breathing practices, yoga or chair yoga and other wellness and lifestyle practices have been shown to be effective in relaxing the nervous system, reducing stress and overwhelm, strengthening the immune system, and creating a healthy body and mind.
Read more below about the different wellness topics we offer, and feel free to send us a message using the inquiry form below to discuss how we can bring mindfulness and a healthy lifestyle to you and your employees!
Leader and founder, Sally Mitchell, is an inspiring mindfulness teacher and speaker, yoga and meditation teacher and integrative health coach. After 20 years as a senior technology professional working in the corporate world, Sally has firsthand experience of the physical and mental stress working in a fast paced company environment.
Corporate Wellness Programs
Studies have shown that company wellness programs and mindfulness training create higher job satisfaction, enhance teamwork and collaboration, and help create healthier work environments.
In today's fast-paced, digital world, employees are working longer hours, taking fewer vacations, traveling more frequently for business, and spending numerous hours in front of a computer screen. As a result, it is even more important to integrate wellness and mindfulness into a company's work environment.
Employees who are healthy, calm, mindful and clear-headed are generally more creative, more productive and demonstrate more enthusiasm for their work, reducing staff turnover and increasing productivity.
We offer a variety of wellness classes, workshops, practices and partner exercises, either as one-off sessions at a company offsite or retreat, or as a regular weekly or monthly class.
We can customize any of our offerings and workshops to align with the goals of your event and your group.
Mindfulness, Purpose and Awakening Talks, Workshops, Practices
Mindfulness Tips and Practices for Daily Work and Personal Life
Cultivating Mindful Relationships with Customers, Clients and Colleagues
Mindful Negotiation and Collaboration with Role Playing Practices
Guided Meditations and Breathing Exercises
Discover and Live Your Purpose Workshop
Journaling for Gratitude and Intentions Setting
Yoga and Chair Yoga Classes for all levels
Chair Massage in your office or at your event or retreat
Nutrition and Healthy Eating Workshops
ChiWalking or ChiRunning Natural Walking and Running Workshops
Wellness Walks in the city or nature
Corporate Retreats and Offsites
"Sally was a great addition to our recent corporate offsite retreat. Her experience and background in business as well as the wellness worlds made her story even more relatable and impactful. It was important to our team to bring in some outside perspective and activities that could push us out of our day to day conversations to inspire, motivate and connect. Her participation was a very key part of our day and I would recommend her highly." - Alyse Courtines, VP MKTG, October 2018
Mindfulness Training and Classes
We offer Mindfulness Talks, Classes and Workshops, including sessions on: About Mindfulness, Mindfulness Meditation Practice, Breathing Techniques, and Practical Ways to Integrate Mindfulness into a Busy Daily Schedule, Cultivating Mindful Relationships with Customers, Clients and Colleagues, Mindful Negotation and more. Our intention is to help you and your employees experience and enjoy being Mindful with a balance of effort and ease.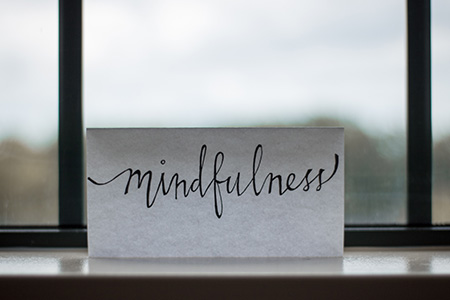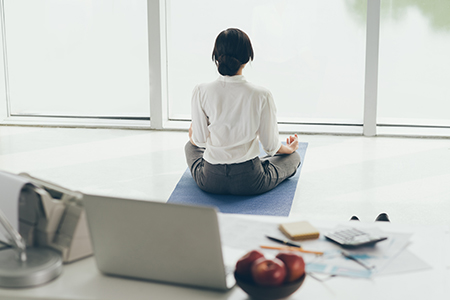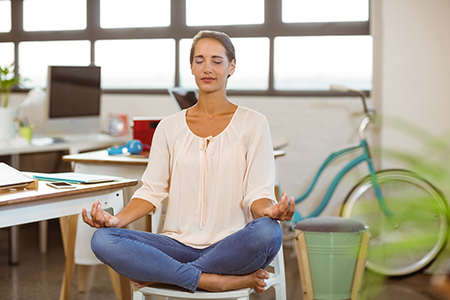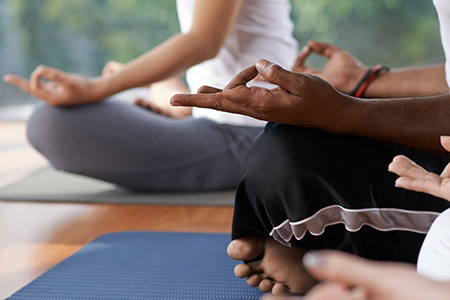 Thales Teixeira, an associate professor at Harvard Business School and the publisher of Economics of Attention, says "The cost of attention is the most dramatic business expense increase in the last 25 years." He calculated that the cost of attention has increased 7 to 9-fold in real terms since 1990. He also quotes in a recent Harvard Business School study that "there are only two ways to capture attention; it can be purchased or it has to be earned."
We help our clients improve employee attention and focus through learning, practicing and integrating mindfulness into their daily life. Our intention is to empower each individual to tap into their true potential and live each moment with greater intention, finding more clarity on how they can contribute and add value to the team, whilst collaborating more effectively with others.
"Mindfulness is awareness that arises through paying attention, on purpose, in the present moment, non-judgmentally. It's about knowing what is on your mind." - Jon Kabat-Zinn
Benefits of Mindfulness Meditation
Reduces stress and overwhelm
Provides calmness and balance
Improves focus and concentration
Improves decision making and clarity
Enhances productivity and team work
"Sally really made our department's off-site and bonding event a memorable one! With her strong attention to detail, warming attitude, and thoughtful activities, she created such a positive environment for us all to have a wonderful experience to collaborate together and get to know each other at a different level. Sally made the experience a great venue to bring our team together in a positive way. The location, food and activities made for a perfect corporate offsite." ~ Lisa Capper, Area Director of local healthcare company, 2016
Sample Agendas
Below are some sample agendas for 2 or 4 hour Company "Awakening through Mindfulness" Retreats. The durations, content and topics may be adjusted according to your wishes.
Sample Agenda (2 hours)
Intro and Intentions Setting (5 mins)
Guided Breathing/Grounding Meditation (10 mins)
"Awakening through Mindfulness" Talk/Presentation (with slides and example topics: key causes of stress, key concepts and benefits of mindfulness, meditation, awakening, mindfulness tips for daily work/home life, cultivating mindful relationships with colleagues and clients, mindful negotiation, the awakened company etc.) (60 mins)
Guided Mindfulness/Meditation Practice (20 mins)
Yoga or Chair Yoga Class (20 mins)
Closing and Q&A (5 mins)
Sample Agenda (4 hours - half day or full day with 1 hour lunch)
Intro and Intentions Setting (5 mins)
Guided Breathing/Grounding Meditation (10 mins)
Yoga or Chair Yoga Class and Stretching (60 mins)
Break (15 mins)
"Awakening through Mindfulness" Talk/Presentation (as above) (60 mins)
Break (15 mins)
Guided Mindfulness/Meditation Practice (20 mins)
Guided Mindfulness Exercises, Reflections & Journaling (20 mins)
Another topic/talk such as Ayurveda, Nutrition, Purpose OR additional Mindfulness Exercise (30 mins)
Closing and Q&A (5 mins)
Leader
Sally Mitchell, founder of Body Flows, E-RYT 200 Hour Yoga Teacher, Mindfulness and Meditation Teacher and Speaker, Advanced Raynor Massage Therapist, ChiRunning/ChiWalking Instructor, Integrative Nutrition Health Coach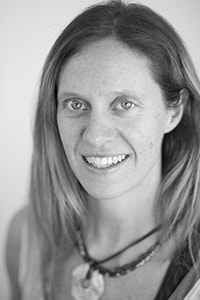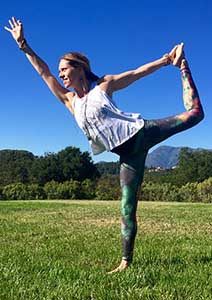 After spending 20 years in the corporate world in technology in London, NYC and San Fransicso, Sally has found her true purpose which is to share with others the gifts of yoga, mindfulness, meditation and other wellness practices, helping people to cultivate greater awareness, balance and health, physically, mentally, emotionally and spiritually. Working with companies, teams and individuals, Sally leads weekend yoga retreats in California, Colorado, Arizona and Oregon, and is a mindfulness speaker and leader for corporate retreats and events.
Having experienced first hand the stress that many people experience living and working in a busy corporate career, Sally uses her leadership, management and mentoring skills to create and teach inspiring, mindful and fun experiences for her clients, allowing time for reflection and connection.
Sally is grateful to have the opportunity to inspire and lead others to become healthier and happier and discover and live their purpose, through yoga, meditation, mindful movement, massage and energy healing. She looks forward to working with you and your group! Read more about Sally.
Corporate Retreats and Events
We lead day or multi-day company offsites and retreats and events, partnering with a variety of venues in Sonoma Wine Country and around the San Francisco Bay Area. We can also come to your location or your own event and lead any wellness sessions at your own offsite. Treat your employees to a healthy, mindful and enjoyable company retreat, blending elements of mindfulness, yoga, nature and wine tasting if you choose! Our theme for corporate retreats is Connect, Collaborate, Create. We will work with you to design a unique experience for your group. Read more about our Corporate Retreats here.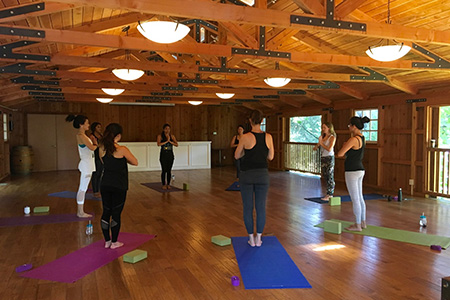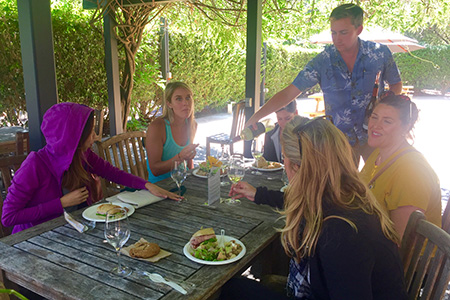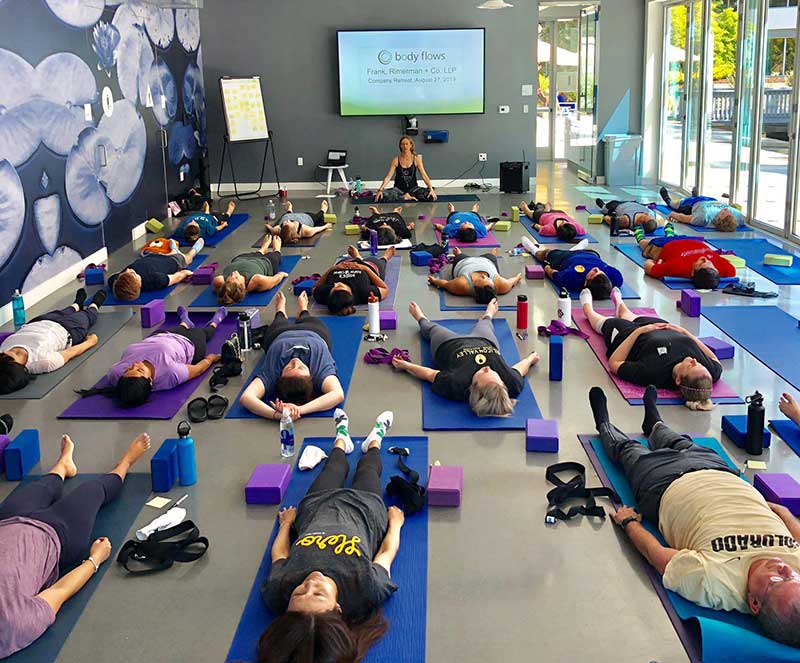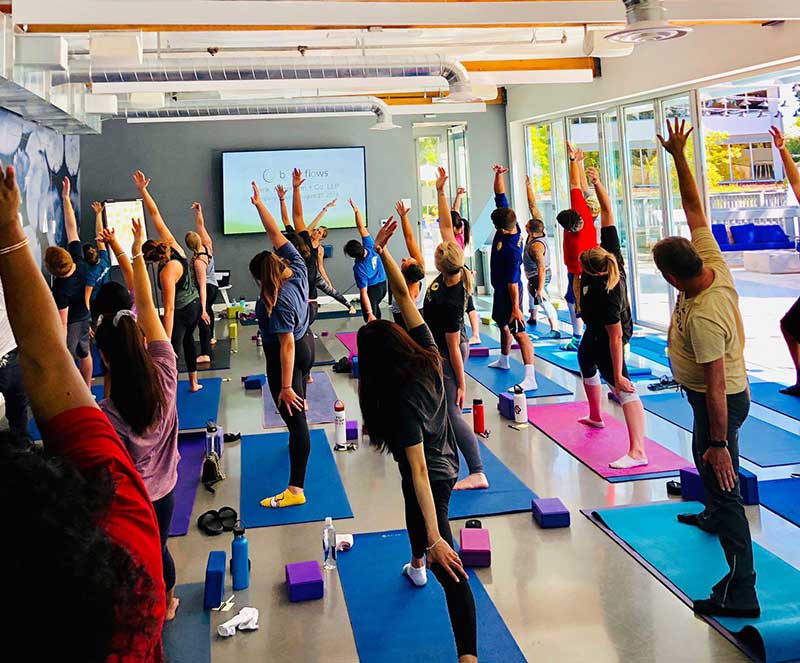 Wellness Walks
If you are not ready for a full day offsite or retreat, we love arranging 2-4 hour Wellness Walks, integrating Mindfulness, Meditation, Breathing, and some Yoga Postures during the walk. We can lead Wellness Walks near your office or at a beautiful location in nature. There are many beautiful trails around the San Francisco Bay Area and Sonoma and Napa Wine Country for our Wellness Walks.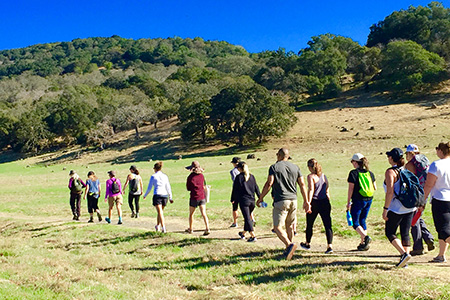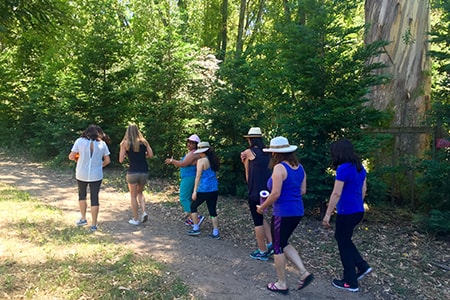 Office Yoga or Chair Yoga
We offer yoga or chair yoga classes for all levels in the comfort of your office, a nearby park or rooftop or at your offsite event or retreat. We can work with you to create a custom program, that may include weekly, biweekly or monthly classes or sessions, or one-off events.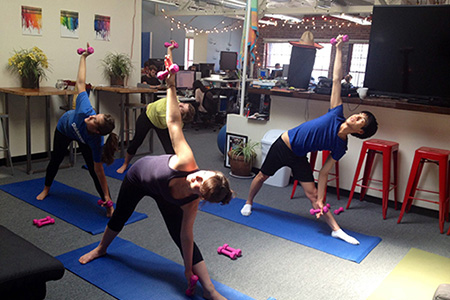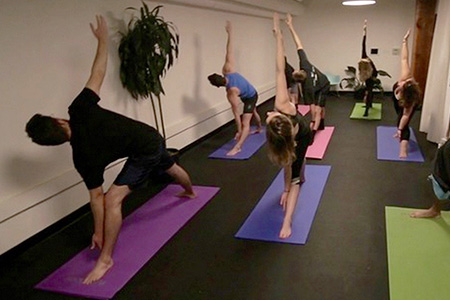 Our yoga classes are suitable for all levels and are custom tailored for your employees' needs, including stretching, strengthening, breathing and meditation.
Focusing on conditions caused by sitting at a desk and working at a computer, such as neck, shoulder, back and wrist pain, your employees will go back to work feeling more grounded, calm, relaxed and productive.