Best Outdoor Yoga Classes in the San Francisco Bay Area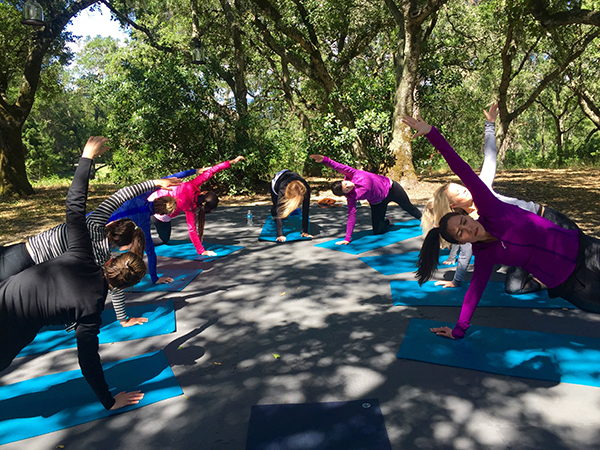 We are thrilled and honored that Body Flows Yoga has been recognized as offering the Best Outdoor Yoga Classes in the San Francisco Bay Area by CBS Local SF Bay Area!
Practicing and teaching yoga in the outdoors has been a passion of mine since I began leading yoga retreats in stunning Sonoma and Napa wine country.
Experiencing the beauty of nature during a yoga class helps us to connect more deeply with the earth, be mindful of the sounds and happenings of nature, draw on the energy from the universe, and appreciate this incredible Mother Earth that supports us each and every day of our lives.
When teaching Corporate Yoga in the San Francisco Bay Area, many companies, particularly the smaller tech startups, didn't have large enough office spaces in which to practice yoga, but they often had lovely rooftops, overlooking the spectacular city skyline or the San Francisco Bay, that made for a perfect yoga space. If a rooftop wasn't available, we would sometimes practice in a nearby park, finding a quiet corner where we could set up our yoga mats and get into our downward facing dogs in private.
The tech startup that I used to work for as a Project and Account Manager, Livefyre, had a fabulous rooftop that remained sheltered from the San Francisco cool wind and was high enough above street level to alleviate most of the traffic noise. As well as stretching, strengthening, breathing and calming our minds, we were able to receive a little vitamin D as we practiced outdoors with the natural sunlight warming our bodies. Sunglasses were usually required!
Since moving to Sonoma in 2015, I began connecting with local wineries to inquire about teaching yoga classes outdoors overlooking the fantastic vineyards. Some wineries were more open to my yoga and wine proposal than others. One particular winery with which we have created a fantastic partnership is Bartholomew Park Winery, just a few blocks from the Sonoma plaza.
Bartholomew is nestled on a historic and beautiful organically farmed estate. All their delicious wines are hand-crafted and can be purchased exclusively through the winery. Their sales manager is a true yoga lover and just loved the idea of outdoor yoga followed by wine tasting and food pairings.
We love taking groups, including bachelorette parties, corporate wellness events and retreats, and gatherings with friends, to the Winery for Custom Yoga & Wine Tasting Events and Retreats.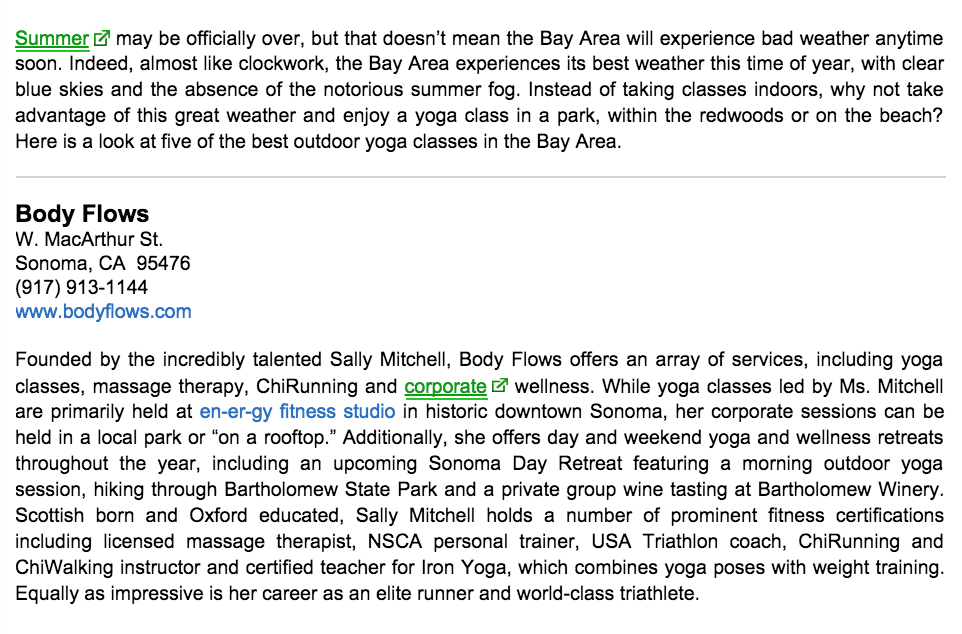 Check out the full article where CBS Local San Francisco mentions that Body Flows is the Best Outdoor Yoga in the San Francisco Bay Area!
Is there something you would like to be recognized as 'best' in your industry, and perhaps written about by a well respected publisher or business? The good news is that you can be! The first step is usually to create a website, or SEO your website, if you already have one. You'll want to be found more easily online by these journalists who are researching their topic and looking for information and businesses to spotlight.
Not sure how to SEO your website? As well as leading yoga and wellness retreats, I've been helping other small businesses rank their websites higher on the search engines by applying some highly effective SEO tips and tricks. After learning these tips myself, I was able to rank my website on p1 of Google for the search term 'yoga retreat california' hence why most of our retreats sell out a couple of months prior. We're now working on ranking on p1 of Google for the keyword 'yoga'. Stay tuned :)
If you'd like to learn more about how to rank and SEO your website, not only to help attract more relevant clients, but also to possibly be named 'best' in your industry, feel free to send me an email and I'd love to chat more and share my experience with you.
If you have any questions or feedback on this article, please leave a comment in the comments section below. We'd love to hear from you!
Please also share this article with your friends and followers if you found it helpful, by clicking the buttons below.
Namaste and much love and gratitude,
Sally