Yoga, Chair Massage, Corporate Retreats and Team Building Events
Enhance the health and increase the happiness of your employees by offering yoga, meditation or chair massage either in your office or at an offsite corporate retreat in beautiful Sonoma. Body Flows will work with you to create a custom program, which could include weekly, biweekly or monthly yoga, meditation classes or chair massage, or offsite events such as a team building day or multi-day retreats in Sonoma wine country or even a holiday party.
Corporate wellness programs are becoming increasingly popular as employees are working longer hours, taking fewer vacations, traveling for business more frequently, and spending many hours every day sitting at a desk, working at a computer and using their smartphones. Employees who are healthy, calm, mindful and clear-headed are more creative and productive and demonstrate greater positive energy and enthusiasm, thus enhancing the productivity and happiness of your team!
Many successful entrepreuners, business professionals and athletes have been using mindfulness, meditation and yoga for years to help them on their journey towards achieving their goals.
Corporate wellness and corporate retreats will help guide you and your colleagues towards success with a sense of mindfulness, balance, focus and fun.
"Sally is a great yoga teacher and perfect for a corporate setting! She knows how to work with all levels without making anyone feel lost or bored. Great way to keep your employees happy and healthy!"~ Mia
"The retreat far exceeded my expectations. I loved the venue, the food was delicious, the yoga was a great blend of strength and restorative and the hike was on a beautiful trail where you could go at your own pace. I highly recommend Body Flows retreats and Sally as an instructor."~ Renee
Corporate Retreats and Offsites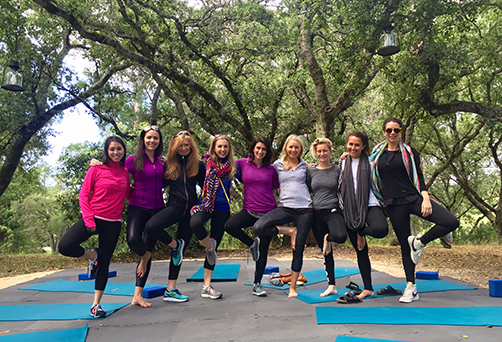 We invite you and your employees and colleagues to Sonoma wine country for a day or multi-day team building retreat or offsite.
CONNECT. COLLABORATE. CREATE.
Our intention is to help you to CONNECT with yourself and each other, COLLABORATE and work more effectively with your colleagues or teammates, and CREATE team visions and action plans that you can take back to your work and lives after the retreat.
We hope you will also have fun and enjoy taking time away from the office.
"Sally led us through a truly special day for our staff retreat that included mindfulness, stress reduction, yoga, hiking and time for group and self reflection. I have been both a leader and participant in over 20 staff retreats over the years and this one was, hands down, the best. Our team left refreshed and better connected and we have built in some of the themes from the day into our organizational culture. I would highly recommend Sally and Body Flows for a staff retreat." - Elizabeth Brown, President and CEO, Community Foundation Sonoma County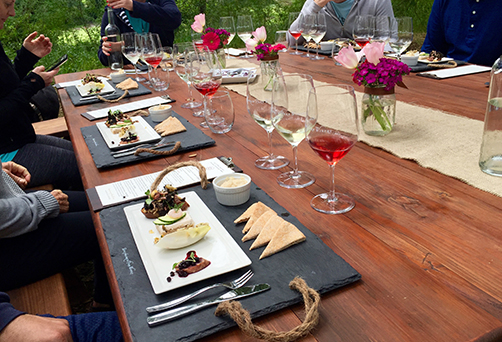 Beginning the day with your choice of yoga, meditation or mindfulness practices, we will help you to relax the mind and prepare for the day ahead, listening to your intuition and inner wisdom, and opening yourself up to new ideas and possibilities.
We will work with you to customize your activities and schedule, that could include any combination of outdoor yoga or stretching, mindfulness for stress reduction, mindful movement and hiking in nature, team building activities or vision creation, chair massage, local nourishing farm to table food, local wine tasting, optional overnight stays and more.
Partnering with stunning locations in Sonoma such as local wineries, rustic retreat centers, and exclusive hotel resorts, we can offer multiple options for location, dining and accommodation, depending on your budget and goals.
"Sally really made our department's off-site and bonding event a memorable one! With her strong attention to detail, warming attitude, and thoughtful activities, she created such a positive environment for us all to have a wonderful experience to collaborate together and get to know each other at a different level. Sally made the experience a great venue to bring our team together in a positive way. The location, food and activities made for a perfect corporate offsite." ~ Lisa Capper, Area Director
Please email us with any questions or to discuss planning your next work offsite. We look forward to hosting your event!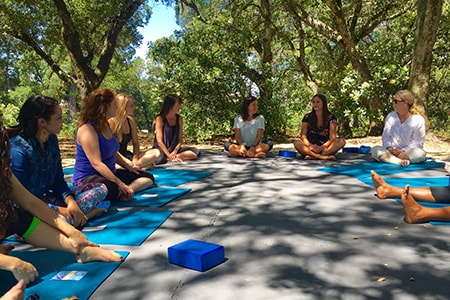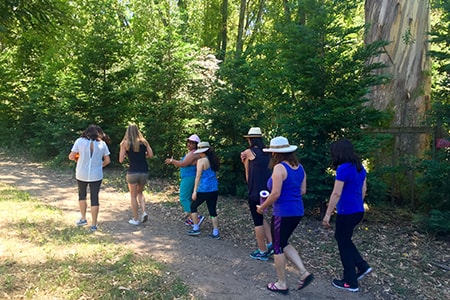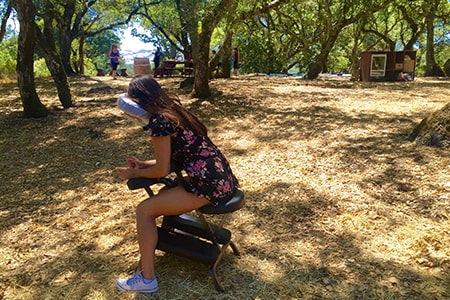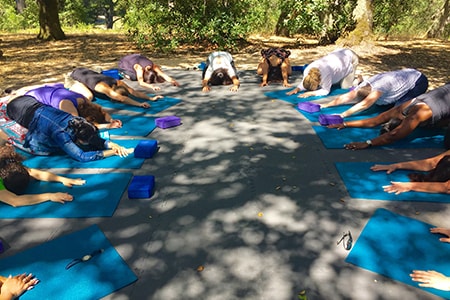 Office Yoga and Meditation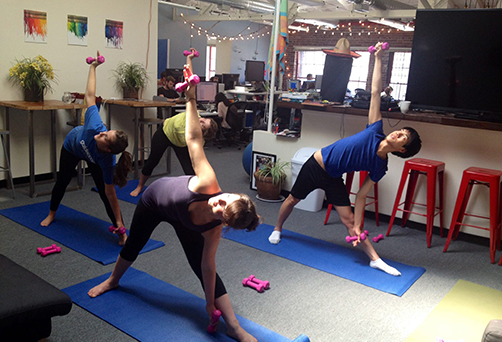 Our yoga classes are suitable for all levels and are custom tailored for your employees' needs, including stretching, strengthening, breathing and meditation.
Focusing on conditions caused by sitting at a desk and working at a computer, such as neck, shoulder, back and wrist pain, your employees will go back to work feeling more grounded, calm, relaxed and productive.
Classes can be held in the comfort of your office, a nearby park or even a rooftop, and can be weekly, biweekly, monthly, at a company offsite or event or for your annual holiday party!
We have a team of wonderful experienced yoga instructors.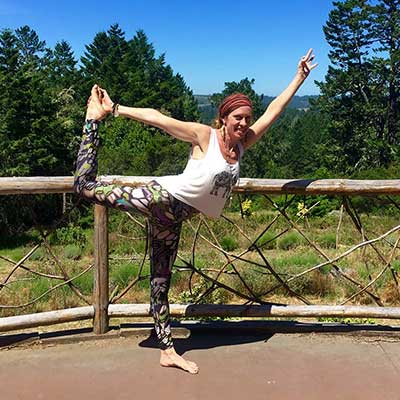 Sally Mitchell is a 200Hr RYT Yoga Teacher and teaches alignment based Vinyasa Flow Yoga, available for all levels.
Her classes are creative, balanced and energizing, linking movement with the breath, for a safe, supportive yet strong practice. Having worked in the corporate world herself for 20 years, Sally understands firsthand the physical and mental stresses that come with working in an office environment and is grateful to be sharing her teachings and helping people find more flow in their bodies and minds. Read more about Sally.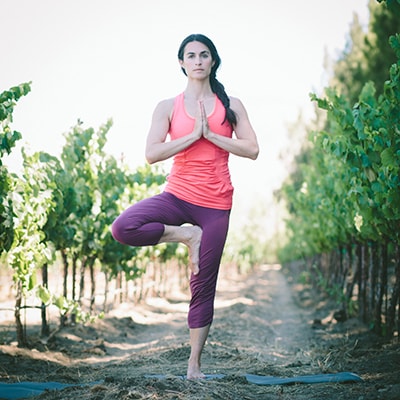 Heather Grzych is a 500Hr RYT (Experienced Registered Yoga Teacher at the highest level), and has studied Vinyasa Power Yoga, Hatha Yoga and Yoga Therapy for various health conditions including musculoskeletal issues, lifestyle diseases and cancer.
As well as teaching yoga, Heather is an Ayurvedic consultant, specializing in women's health, and works one-on-one with high achieving women who are suffering from menstrual or fertility issues.
Read more about Heather on her website Maverick Zen.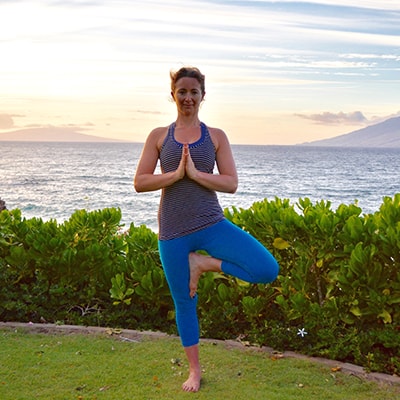 Nicola Survanshi is a 200Hr RYT (Registered Yoga Teacher) and studied at Yoga Garden San Francisco.
Nicola brings a sense of mindfulness and focus to her corporate yoga classes, whilst also helping her clients build strength and increase flexibility. She includes postures to help with common posture related issues.
Learn more about our team of wonderful teachers and healers.