INTRO
THEME
ACTIVITIES
SCHEDULE
LOCATION
LEADER
INQUIRY
Healthy and Mindful Retreats for Corporates and Groups
Sonoma Wine Country, San Francisco Bay Area, California, or Online
with Sally Mitchell (Founder and Leader, Yoga, Meditation and Mindfulness Teacher, Massage Therapist and Integrative Health Coach)
Treat your employees to a healthy, mindful yet fun company retreat or offsite in Sonoma or Napa wine country, or we can travel to your location.
We are also offering our company retreats online if you prefer an online experience. Contact us to customize a unique retreat experience for your group.
Featured In
Connect. Collaborate. Create.
Healthy company retreats and offsites are becoming increasingly popular for team building and boosting team morale. Employees are working longer hours, taking fewer vacations, traveling for business more frequently, and spending many hours every day sitting at a desk, working at a computer and using their smartphones.
Studies have shown that employees who are healthy, calm, mindful and clear-headed are more creative, more productive and demonstrate more enthusiasm for their work.
Successful entrepreuners, business professionals and athletes have been using mindfulness, meditation and yoga for many years to help them become more successful and achieve their visions and goals. Our intention is to guide you and your colleagues towards your goals and success with a state of mindfulness, balance, focus and enthusiasm.
Whilst Mindfulness Training is a key aspect our of retreats and events, we also weave our theme Connect. Collaborate. Create. throughout the day, with the intention of helping you Connect more deeply with yourself and each other; Collaborate and work more effectively with your colleagues or teammates; and tap into your creativity so you can Create team visions and action plans that you can take back to your work and lives after the retreat or offsite.
We hope you will also have fun and enjoy taking time away from the office into nature if you join us in Sonoma wine country!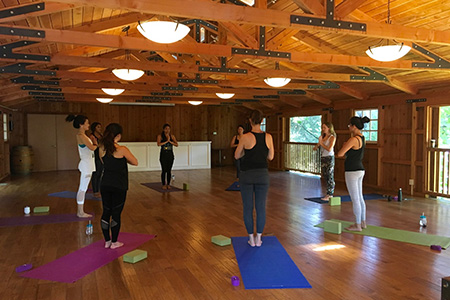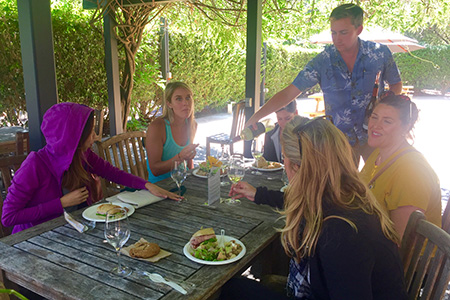 Sample Activities
We can arrange full day or multi-day events with overnight stays, that include any combination of the following activities.
We are also available to lead 1-2 hour Mindfulness Training classes, workshops or talks with groups at their own event or location.
Yoga, Mindfulness and Guided Meditations for all levels.
Mindfulness Presentation and Workshop.
Discover and Live Your Purpose Presentation and Workshop.
Ayurveda and Nutrition Presentation and Workshop.
Wellness Walks in Nature including ChiWalking and/or ChiRunning instruction.
Massage or Reiki Energy Healing Treatments.
Using Essential Oils for Physical and Emotional Balance Workshop and Education.
Biodynamic Winery Tour and Wine Tasting at established Sonoma wineries.
Overnight Stays in luxury Sonoma hotel or rustic ranch can be arranged.
An example schedule for a one-day event is included below.
We can also arrange overnight stays at local Sonoma hotels and more rustic retreat centers, or travel to your own event or chosen location. We will work with you to design and create a unique experience that aligns with the goals of your group and allows you to enjoy a mindful and fun day of movement, wellness and wine in Sonoma wine country. Contact us to learn more and discuss planning your custom event today!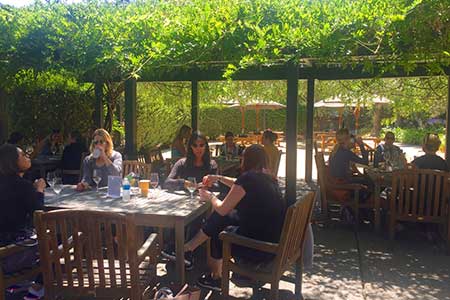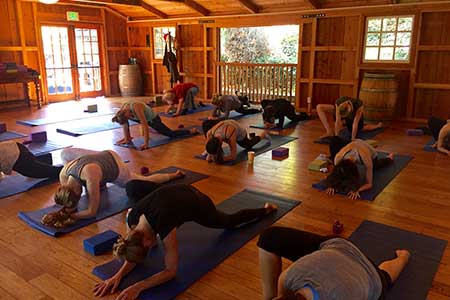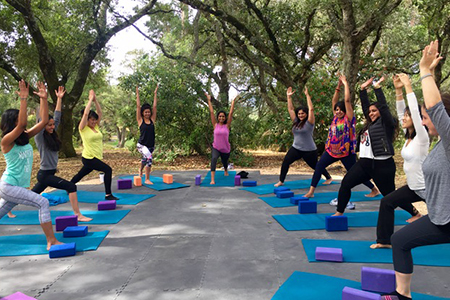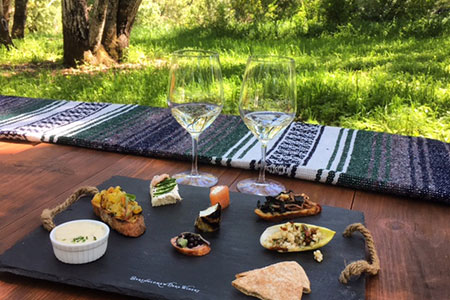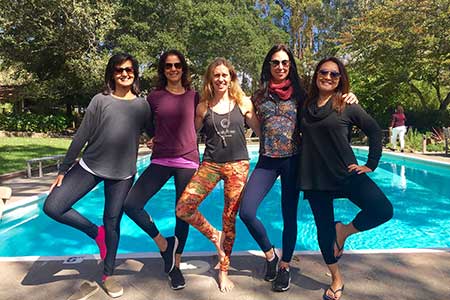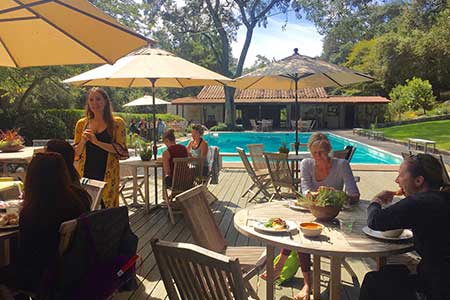 "Sally led us through a truly special day for our staff retreat that included mindfulness, stress reduction, yoga, hiking and time for group and self reflection. I have been both a leader and participant in over 20 staff retreats over the years and this one was, hands down, the best. Our team left refreshed and better connected and we have built in some of the themes from the day into our organizational culture. I would highly recommend Sally and Body Flows for a staff retreat." ~ Elizabeth Brown, President and CEO, Community Foundation Sonoma County
Read more client testimonials and feedback.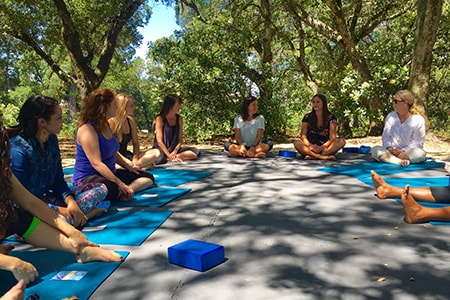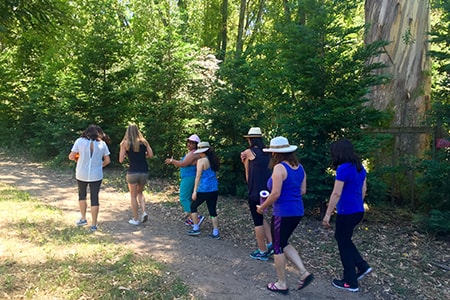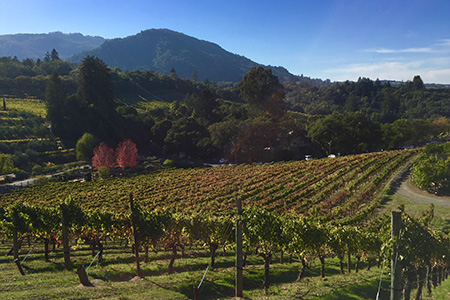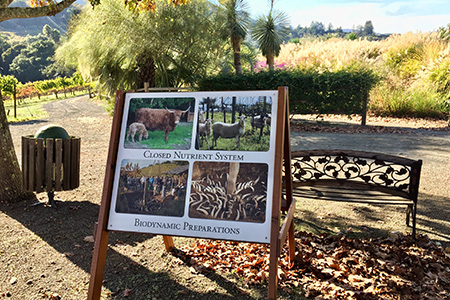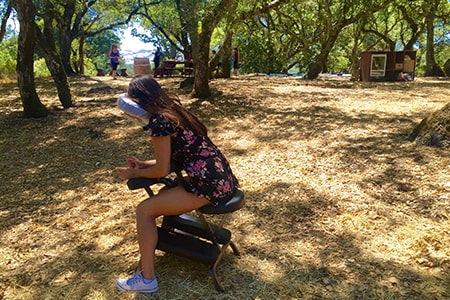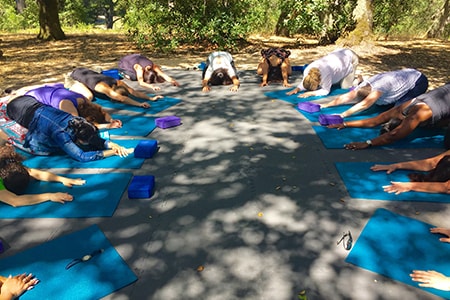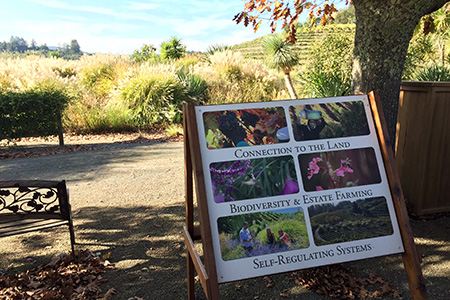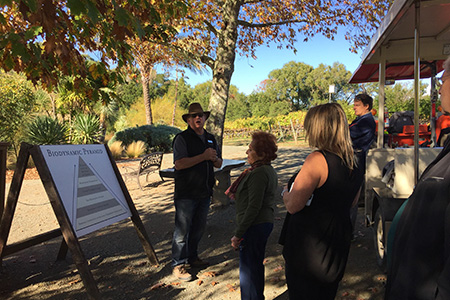 Sample One-Day Retreat Schedule
10am - Arrivals and Gathering
10.30am - Morning Yoga, Meditation and/or Breathing Exercises
Begin your day with a few sun salutations and a gentle all levels vinyasa flow yoga class, surrounded by stunning vineyards, available for all levels. The Yoga class will consist of creative sequences, linking movements with the breath, moving your body through both yin and yang postures. Incorporating breathing, physical postures and meditation, you will experience a safe and nurturing practice, leaving you feeling relaxed yet energized. Options will be provided for varying abilities. Guided meditation and/or breathing practices may be taught instead of yoga if you prefer.
11.30am - Presentation / Talk / Discussion
Talk and tips about mindfulness for stress reduction, living your purpose, meditation, nutrition, mindful and conscious living.
12.00pm - Catered Lunch
Delicious catered lunch by local restaurant. Vegetarian, gluten-free, dairy-free, and other dietary requirements options available. Choose from a selection of menu items to suit everyone's tastes!
1.00pm - Winery Tour
Informative winery tour through the winery, caves and vineyards, learning about the wine making process, in particular the process of organic and biodynamic wine making.
OR
1.00pm - Hiking in Nature with optional ChiWalking/ChiRunning Overview
Experience nature at its best with a beautiful 3-4 mile hike through the vineyards or on local hiking trails. The trails are medium level terrain, available for all levels. Proper walking or hiking shoes are recommended.
At the start of the hike, Sally can lead a short ChiWalking/ChiRunning talk and demonstration, teaching natural and pain-free walking and running technique, reducing impact and injury, to allow us to walk or run more efficiently and faster with less effort.
2.00pm - Private Wine Tasting
Taste a selection of the winery's delicious organic and biodynamic wines.
3.00pm - Closing and Departures
"Sally really made our department's off-site and bonding event a memorable one! With her strong attention to detail, warming attitude, and thoughtful activities, she created such a positive environment for us all to have a wonderful experience to collaborate together and get to know each other at a different level. Sally made the experience a great venue to bring our team together in a positive way. The location, food and activities made for a perfect corporate offsite." ~ Lisa Capper, Area Director
Read more client testimonials and feedback.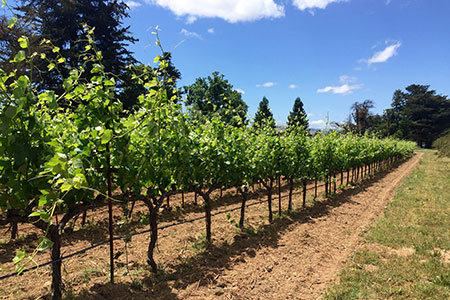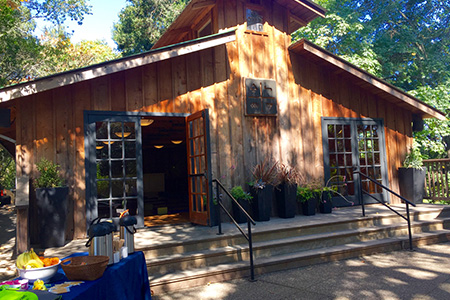 Client Testimonial: "THANK YOU for another fantastic yoga retreat. You have a special talent in bringing people together and helping us to feel great during and after our get-away. Loved every minute." - Jo, March 2017