OVERVIEW
RESOURCES
INSTRUCTOR
WORKSHOPS
RETREATS
TESTIMONIALS
Effortless Running, Reduce Injury and Increase Speed with ChiRunning
"Running does not hurt your body. It's the way you run that does the damage and causes pain." ~ Danny Dreyer, founder of ChiRunning and ChiWalking
"Sally is an excellent instructor. Her insight and feedback on my running style was valuable and will overall help my progress. The video comments were extremely helpful. It is nice to have that visual correlation with her added comments. " ~ Suzanne, satisfied customer
Would you like to run more efficiently and with less effort, reduce injury, feel lighter, while also running faster?
Having a running coach who can help you with your running technique, motivate you to get out and run more consistently, and support you towards your running goals is so important if you want to stay injury-free and enjoy running for the rest of your life.
Body Flows teaches a safe, natural and highly efficient running technique called ChiRunning, that makes running seem effortless, light, and allows you to feel like you are running like the wind. ChiRunning is based on principles of Tai Chi, including core strength and posture, an inner focus and mind/body connection, and the natural flow of energy.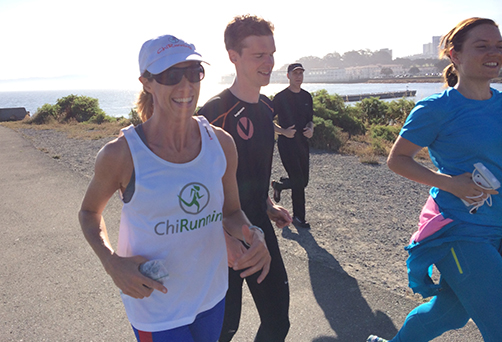 Whether new to running, already running to stay fit or seeking a competitive edge, ChiRunning makes running easy by letting gravity do the work. You run from your core muscles, allow gravity to assist your forward momentum, and let your legs relax. This reduces impact and eliminates the cause of injury, helping you to run more safely, run for longer, feel lighter and more relaxed, run faster, and enjoy running for a lifetime!
If you are a more competitive runner, the techniques and training principles of ChiRunning will help you become physically and mentally aligned with success. You will discover the zone where your body and mind work in perfect synchronicity and where speed comes from deep relaxation and an alert awareness.
Overall, running helps you to stay fit and healthy, clear your mind, manage your weight, relieve stress and feel fabulous. By learning the ChiRunning techniques, you can enjoy these benefits for the rest of your life!
ChiRunning has been known to reduce, prevent and even fix the following injuries: ITB Syndrome, Patellofemoral Syndrome (often referred to as Runner's Knee), Shin Splits, Plantar Faciitis, Achilles Tendonitis, Stress Fractures, Sciatica, Low Back and Hip Pain and Tightness, and Hamstring, Hip Flexors and Calf Pain.
ChiRunning Certified Coach and Instructor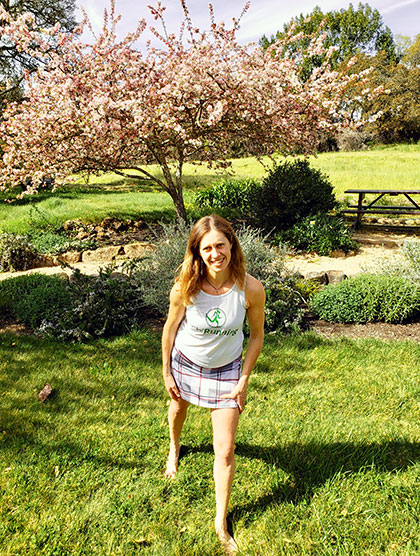 Sally Mitchell, Running Coach and Certified ChiRunning Instructor, is based in Sonoma, California, and loves running on the local running trails in nature.
Teaching private classes, group workshops and running with clients one on one, Sally is passionate about sharing the Chi techniques that have helped her with her own running, eliminating knee pain and other injuries, running more easily and faster, and running pain free!
Sally has been running for over 30 years and has competed in multiple running and triathlon races, including marathons, half marathons and various distances of triathlons, qualifying for Boston marathon and the Olympic and 70.3 Triathlon World Championships.
As well as teaching ChiRunning, Sally is a yoga teacher and often teaches ChiRunning during her weekend yoga retreats in California.
Contact us for more details and to learn more.
ChiRunning Classes
ChiRunning Essentials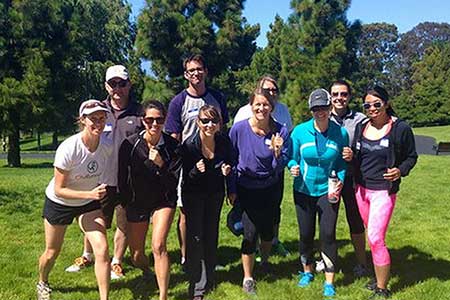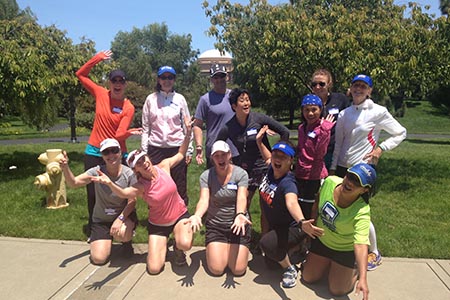 The ChiRunning Essentials Class includes a variety of instruction, exercises, drills and some running practice to help you run more efficiently and effortlessly. You will get a sense of what the ChiRunning technique feels like in your body, and you will have the opportunity to practice the new form. We will not be doing lots of running (contrary to what you might imagine), so no matter what condition you are in, such as coming back after an injury, lack of fitness or a total beginner, we believe you will still learn and get a lot out of the workshop.
We will spend time alternating between demonstrations, fun exercises and technique drills. We hope you will find it inspiring and enlightening. All levels are welcome and encouraged!
Learnings The Keys to Effortless, Injury-free Running; The Physics of Running: Run without Using Your Legs; ChiRunning versus Power Running; Introduction to the ChiRunning Form; Injury prevention techniques; Personal Check-in Tricks and Tools; Alignment and Relaxation; Pre-run Body Looseners; Innovative technique drills; How to conserve energy at any speed.
Private Classes Private classes are held in Sonoma or an agreed upon alternative location. $200 for 2-hr class (1 person), and semi-private classes are $350 for 2-hour class (2 people).
Booking and Cancellation Policy No refunds. If you cancel more than 24 hours prior to the workshop, you may reschedule for a future class or use your payment as credit towards any future Body Flows services. If you cancel within 24 hours of the workshop, all payments will be forfeited.
BOOK PRIVATE CLASS
ChiRunning Part 2
Lessons Include Body Looseners, Knee Bending Exercise, Breathing Techniques, Running Hills (Gradual and Steep Uphill and Downhill), Program Development, Running Practice, Personal Feedback, Video Analysis.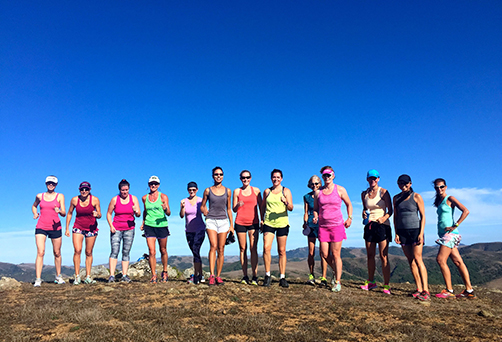 Location Sonoma County
Cost $200 for 2-hr private workshop (1 person), $350 for 2-hour semi-private workshop (2 people).
Prerequisite Must have completed Part 1
Booking and Cancellation Policy Contact us to schedule. 24 hour cancellation policy.
CONTACT US TO SCHEDULE
Resources
ChiRunning Mobile App - Mobile App (includes video lessons and on-the-run audio coaching)
Online ChiRunning School - Online ChiRunning School (includes weekly videos, tutorials and more)
ChiRunning Book - The Original ChiRunning Book by founder, Danny Dreyer
DVDs, Books, Metronome, Packages - ChiRunning DVDs, Books, Metronomes and Packages
Other Resources - Learn more about ChiRunning on the ChiRunning website, including blog posts, articles and more!