Location
Lodge on Loch Lomond, Scotland
The Lodge on Loch Lomond is a stunning and unique destination located on the bonnie banks of Loch Lomond and the beachfront of the wee Scottish village of Luss, with magnificent panoramic views over Scotland's favorite loch! The lodge is a short stroll to the village of Luss, often described as one of the prettiest villages in Scotland.
The atmosphere at the lodge is warm, welcoming and charming with a true Scottish style in all the bedrooms and dining room, with Scottish tartan decor and stunning views over famous Loch Lomond. The Amber Rose Spa offers a variety of treatments and self-care services that may be booked during your free time.
Just 30-45 mins drive from Glasgow Airport and 1.5 hours drive from Edinburgh Airport, the Lodge on Loch Lomond is easily accessible by car or taxi. There is also a direct bus from Glasgow City Center Buchanan Street bus station to the bus stop just before the village of Luss, which is a short 10 minute walk to the Lodge. We can also help to coordinate shared airport transfers with other retreat guests if desired. There are direct flights to Glasgow and Edinburgh from many US and European cities.
Average weather forecast in this part of Scotland can be found here.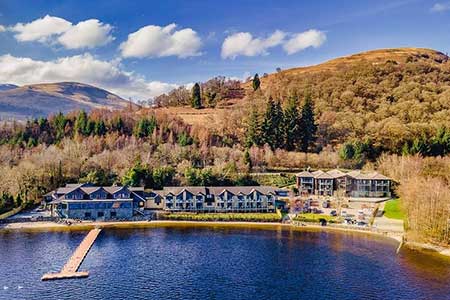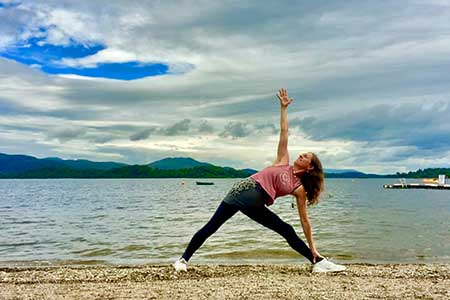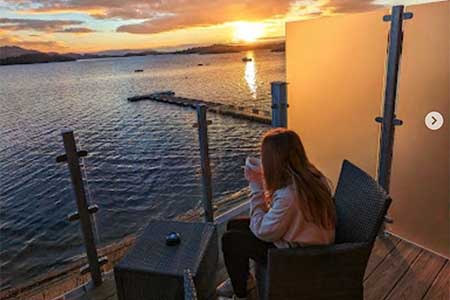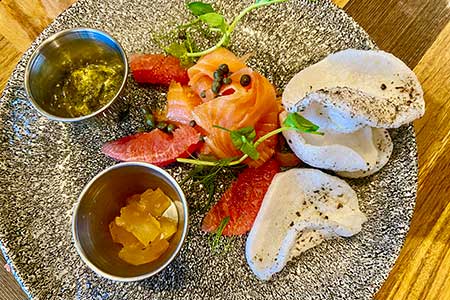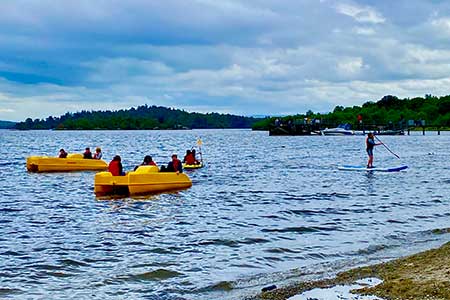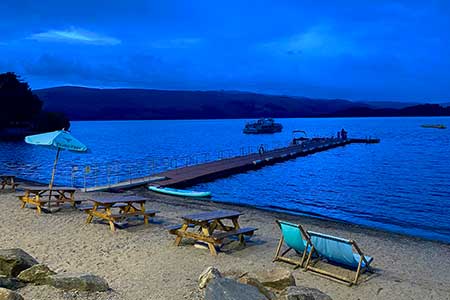 Your Leader
Sally Mitchell, E-RYT 200 Hour Yoga and Meditation Teacher, Certified Massage Therapist, Reiki Practitioner, ChiRunning and ChiWalking Instructor, Integrative Nutrition Health Coach.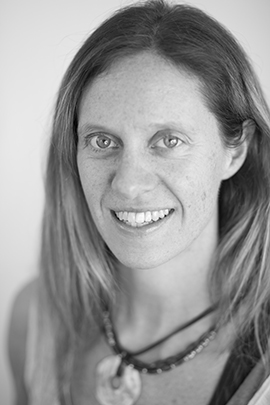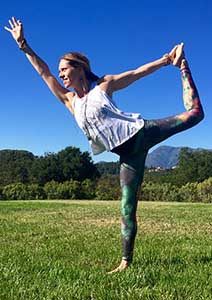 Growing up in Scotland, Sally is excited to take a group of yogis and friends to Scotland, her home country, for yoga, wellness, nature and all things Scottish!
Sally is an inspiring teacher and healer, sharing with others the practices that have helped her to heal her own body and discover a path of transformation and greater self awareness.
Sally has been an athlete since childhood, always loving movement and fascinated by the human body, the power of the mind and the greater Universe. She is grateful to have the opportunity to inspire others to live a healthier and happier life and awaken to their inner desires and purpose, through the gifts of yoga, meditation, reflection, mindful movement, massage, energy healing and essential oils.
She looks forward to meeting you and being a part of your spiritual journey. Read more about Sally.
Tentative Schedule
Important Note:The schedule below is tentative only and subject to changes. The final schedule will be shared with all participants a few weeks prior.
Monday
12.30pm - Arrivals
1.00pm - Lunch
3.00pm - Checkin to rooms
3.00pm - Opening Circle and Welcome to Scotland with journaling reflections inspired by sacred Celtic traditions
4.00pm - Vinyasa Yoga and Guided Meditation
6.30pm - Dinner
8.00pm - Evening Mindful Walk by Loch Lomond
Tuesday / Wednesday / Thursday
7.30am - Vinyasa Yoga and Meditation
9.00am - Breakfast
10.00am - Group Trip - e.g. Group Hike, Boat Trip on Loch, Local Village Luss
1.00pm - Lunch
2.00pm - Group Trip - e.g. visit whisky distillery, Scottish castle or free time (relax, watersports, spa)
6.30pm - Dinner
8.00pm - Evening Activity - e.g. Yin Yoga or Mindfulness and Journaling Workshop or Evening Meditation Walk or Outdoor Fire Pit and Star Gazing
Friday
7.30am - Vinyasa Yoga and Closing Circle
9.00am - Breakfast
11.00am - Checkout of rooms
11.00am - Workshop and Journaling Reflections
12.30pm - Lunch
2.00pm - Departures
What To Bring
Yoga mat, comfortable clothes for yoga and hiking, sturdy hiking shoes or hiking boots, water bottle for hiking, bathing suit for watersports in the loch, sun lotion and sun hat, warm and waterproof jacket or sweater for cool or wet weather.
Note: There are no yoga mats or props so please bring your own yoga mat and (optional) blocks, blanket, bolster, strap. We understand it may not be possible to bring blocks, blankets and bolsters if you are traveling by flight. We will keep this in mind during the yoga classes and adjust as needed.
Note: Dogs and other pets are not permitted. The only animals that are allowed are certified service animals, accompanied by a person with a disability.
"This was my first yoga retreat and my first with Sally, it was a fantastic experience! I definitely will be attending more in the future. Sally truly blessed us with her spirit, knowledge and generosity of practice!!!" - Sandy, Dec 2016