Location
Sunset Chateau, Sedona, Arizona
Sunset Chateau is a charming and comfortable boutique lodging located in the heart of Sedona's red rocks, just 50 minutes drive from Flagstaff airport in Arizona, and right beside one of Sedona's most famous energetic spiritual vortexes, Airport Mesa, providing the perfect space for cultivation of a deep connection with nature, your inner self and the wider universe.
The property and bedroom suites are artistically decorated with unique curated art and furnishings, and thoughtful touches to help you feel more at home, including organic bath products and comfortable furnishings.
Just 10 minutes drive from the desert town of Sedona, with it's vibrant arts community, new age shops, spas and art galleries, and a short drive from Sedona's stunning red rock trails, there's something for everyone to explore in stunning Sedona.
Just 50 minutes drive from Flagstaff airport and 2 hours drive from Phoenix airport, A Sunset Chateau is easily accessible by car, taxi or airport shuttle by Groome Transportation. Airport shuttles must be booked ahead of time due to availability, and some services may be seasonal so it's recommended to contact the shuttle company directly and book ahead of time.
Average weather forecast in Sedona, Arizona can be found here.
Your Leader
Sally Mitchell, E-RYT200 Yoga and Meditation Teacher, Massage Therapist, Reiki Practitioner, ChiRunning and ChiWalking Instructor, Integrative Nutrition Health Coach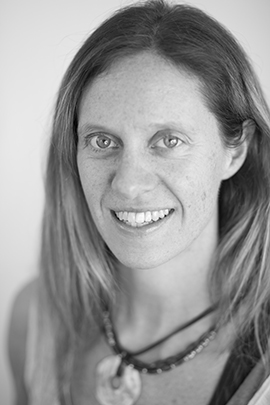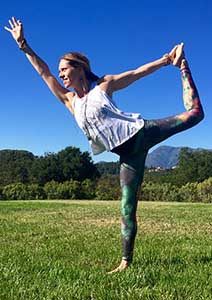 Sally is an inspiring teacher and healer, sharing with others the practices that have helped her to heal her own body and discover a path of transformation and greater self awareness.
Growing up in Scotland, Sally has been an athlete since childhood, always loving movement and fascinated by the human body, the power of the mind and the greater Universe. She is grateful to have the opportunity to inspire others to live a healthier and happier life and awaken to their inner desires and purpose, through the gifts of yoga, meditation, reflection, mindful movement, massage, energy healing and essential oils.
She looks forward to meeting you and being a part of your spiritual journey. Read more about Sally.
Tentative Schedule
Important Note:The schedule below is subject to changes due to the time of year, the weather and other unforeseen circumstances such as yoga venue changes. During the warmer months, or if we have an indoor yoga venue, yoga may be at 7am or 7.30am before breakfast and hike. In the cooler months if we are practicing yoga outdoors, yoga will likely be at 12pm or 4.30pm and there will be just one yoga class per day. The start and end days/times of the retreat will not change! The final schedule will be shared with all participants a few weeks prior.
Thursday
3.00pm - Arrivals and Checkin
4.30pm - Vinyasa Yoga and Guided Meditation
6.30pm - Dinner
7.30pm - Opening Circle
8.00pm - Free Time (jacuzzi, relax, journal)
Friday / Saturday / Sunday
7.00am - Vinyasa Yoga
8.30am - Breakfast
9.30am - Group Hike and Energy Vortexes
1.30pm - Lunch
3.00pm - (Friday) Group Hike and Energy Vortexes
2.30pm - (Saturday/Sunday) Free Time (massage, relax, journal)
4.30pm - (Saturday/Sunday) Yin Yoga and Guided Meditation
6.30pm - Dinner
7.30pm - Free Time (jacuzzi, relax, journal)
Monday
7.00am - Vinyasa Yoga and Closing Circle
8.30am - Breakfast
9.30am - Check out of room by 11am
10.00am - Group Trip to Amitabha Stupa and Peace Park
12.30pm or 1.30pm - Lunch
2.00pm - Departures
What To Bring
Yoga mat, comfortable clothes for yoga and hiking, sturdy hiking shoes or hiking boots, water bottle and/or hydration pack for hiking, flashlight, bathing suit for jacuzzi and salt water pool, sun lotion and sun hat, warm and waterproof jacket or sweater for cool or wet weather, optional eye mask or small hand towel to cover eyes during meditations.
Note: There are no yoga mats or props so please bring your own yoga mat and (optional) blocks, blanket, bolster, strap. We understand it may not be possible to bring blocks, blankets and bolsters if you are traveling by flight. We will keep this in mind during the yoga classes and adjust as needed.
Note: Dogs and other pets are not permitted. The only animals that are allowed are certified service animals, accompanied by a person with a disability.
Accommodations
The rooms are luxurious and spacious suites with separate living room, bedroom, bathroom and shared or private patios with garden and/or stunning red rock views. Rooms either have 1 king bed, perfect for single occupancy or double occupancy sharing the bed, or 1 king bed and 1 queen murphy bed that can accommodate up to four guests for quadruple occupancy, sharing the king and queen beds, or double/triple occupancy. Each room has a kitchenette with a four-burner range, microwave, coffee maker, toaster, and fridge. Organic shampoo, conditioner, soap, shower gel, lotion and hair dryer are provided in every room. Read more about the different rooms here and view photos.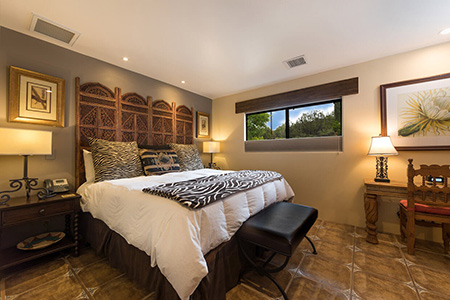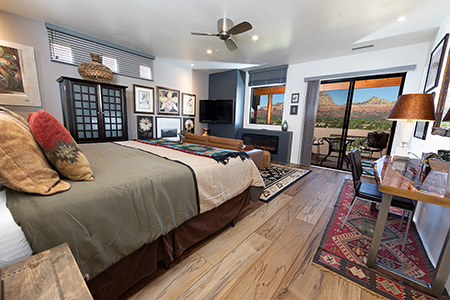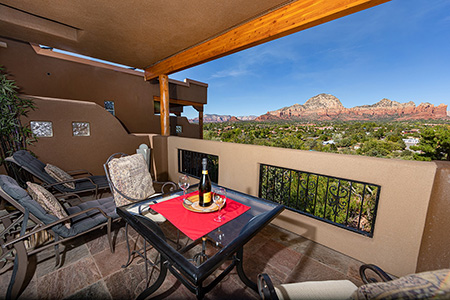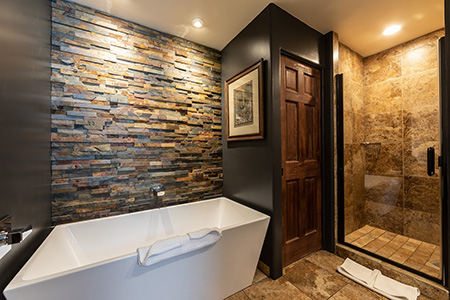 Cost and Sign Up
All prices are per person.
All participants must be 21 or over.
A $250 deposit is required to secure your spot or you may pay in full. The balance is due 70 days prior to the retreat. You will receive reminder emails a few days prior to your balance due date. If the retreat is less than 70 days from the date of registration, the full amount is required.
Shared rooms are female only unless you are signing up with a friend or partner and booking the whole room. Rooms where bed sharing is required are only for friends or family members signing up together and filling the room. If you would like to share a room with a friend who is booking separately please mention their name on your registration form.
All rooms have a private bathroom. All prices are per person.
Read more about, and view photos of, the different rooms here.
Casita Suites (1 King, 1 Queen Murphy Bed) - Double Occupancy - $2,095 per person, Triple Occupancy - $1,895 per person (2 people share bed), Quadruple Occupancy - $1,795 per person (share beds)
Vista Montana Suites (1 King, 1-person jet tub) - Single Occupancy - $2,795 per person, Double Occupancy - $2,095 per person (share bed)
Adobe Romanticas Suites (1 King, 2-person jet tub) - Single Occupancy - $2,795 per person, Double Occupancy - $2,095 per person (share bed)
Pueblo Bonito Suites (1 King, private balcony, private 2-person jet tub) - Single Occupancy - $2,895, Double Occupancy - $2,195 per person
Bella Vista Suites (1 King, private balcony, private 2-person jet tub) - Single Occupancy - $2,895, Double Occupancy - $2,195 per person
Villa Paradiso Suites (1 King, 1 Queen Murphy, Bed, large suite, private balcony, private 2-person jet tub) - Double Occupancy - $2,395 per person, Triple Occupancy - $1,995 per person (2 people share bed), Quadruple Occupancy - $1,895 per person (share beds)
Royal Hacienda Suites (1 King, 1 Queen, large suite, private balcony, private 2-person jet tub) - Double Occupancy - $2,595 per person, Triple Occupancy - $2,195 per person (2 people share bed), Quadruple Occupancy - $2,095 per person (share beds)
"We can never obtain peace in the outer world until we obtain peace within." ~ Buddha
"Yoga is the journey of the self, through the self, to the self." ~ The Bhagavad Gita