Location
Our Hawaii Yoga Retreat will be held at the lovely eco-boutique Hawaii Island Retreat and Wellness Spa, located on Hawaii Island's North Kohala coast. Set on 50 acres of oceanfront tropical forest, organic gardens and ancient valley trails, this is the perfect setting to relax, unwind, recharge, and draw on the energy of this sacred land. As a leader in sustainable travel and green living, Hawaii Island Retreat is has created the perfect sanctuary for living in balance with the land and earth. Throughout the property, there are walking trails to explore ancient Hawaiin sites, organic farm and gardens, and a private cove for whale watching and stunning sunsets. The towns of Hawi and Kapaau, with local boutiques, cafes, restaurants, and farmer's markets, are just 1 mile from the center and well worth the visit for a taste of the local Hawaiian culture.
Getting There
The closest airport to Hawaii Island Retreat is Kona International Airport (KOA), which is 50 miles. Airport transfer to the retreat is not included. Transport options from Kona airport are Speedy Shuttle, airport taxi, or car rental. We will also share a list of private taxi companies and drivers with all participants and can help to coordinate shared rides or shared car rental with other retreat participants if you wish. It is recommended to rent a car if you would like to explore the island during your stay.
Your Leader
Sally Mitchell, E-RYT200 Yoga and Meditation Teacher, Massage Therapist, Reiki Practitioner, ChiRunning and ChiWalking Instructor, Integrative Nutrition Health Coach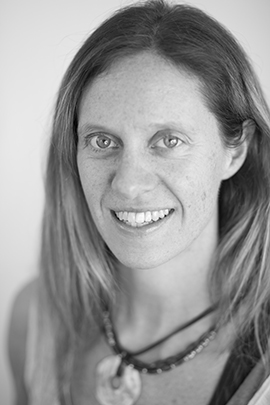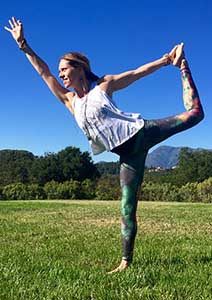 Sally is an inspiring teacher and healer, sharing with others the practices that have helped her to heal her own body and discover a path of transformation and greater self awareness.
Growing up in Scotland, Sally has been an athlete since childhood, always loving movement and fascinated by the human body, the power of the mind and the greater Universe. She is grateful to have the opportunity to inspire others to live a healthier and happier life and awaken to their inner desires and purpose, through the gifts of yoga, meditation, reflection, mindful movement, massage, energy healing and essential oils.
She looks forward to meeting you and being a part of your spiritual journey. Read more about Sally.
Sample Tentative Schedule
This is a tentative schedule only! The activities and times may be adjusted depending on availability and scheduling.
One day during the retreat we will plan to take a full day trip to the Hawaii Volcanoes National Park and Hilo town.
Day of Arrival

3pm Arrivals
5pm Vinyasa Yoga and Guided Meditation
6.30pm Dinner
7.45pm Opening Circle and Journaling
Sample Daily Schedule

7am Vinyasa Yoga and Meditation
8.30am Breakfast
10am Legends and Lore Guided Walk, or Lei Making Workshop or Yoga Sutras Workshop
12.30pm Lunch
1pm Free Time - Pololu Valley and Beach Hike or Kapaau and Hawi towns or local beach outing
5.15pm Yin or Restorative Yoga, Yoga Nidra or Guided Meditation
6.30pm Dinner
8.15pm Workshop - Yoga Sutras Workshop or Essential Oils with Chakra Balancing or Free Time
Day of Departure

7am Vinyasa/Yin Yoga
8am Closing Circle
8.30am Breakfast
11am Check Out and Departures
What To Bring
Beach towel, water bottle, alarm clock, flashlight and batteries, walking sandals or shoes, insect repellent and after bite, tea tree oil for bites, sun lotion, swimsuit, comfortable clothes for yoga and hiking, sunglasses, camera, cash for tips, passport and travel insurance documents. You may bring your yoga mat if you wish, or use a mat from the retreat center. Yoga mats, blocks, straps, blankets and bolsters will be provided at the retreat center.
Accommodations
Choose from spacious hotel suites with large soaking tubs and separate showers, rustic glamping yurts with valley nature views, or more private and secluded bungalows with stunning ocean views. The hotel suites and bungalows have full bathrooms. The yurts have a toilet and sink. Showers for the yurts are in a separate shower house a short walk from the yurts, shared between the 7 yurts. All rooms are fitted with Hawaiian style furniture, luxurious linens and towels, organic shampoo, conditioner and lotion and fresh flowers.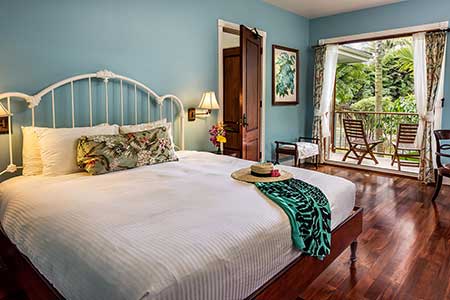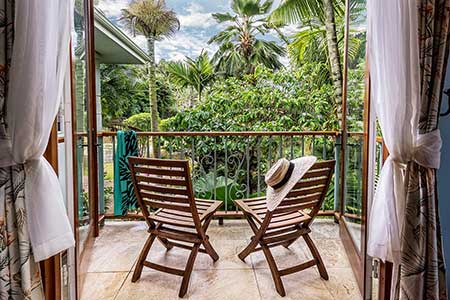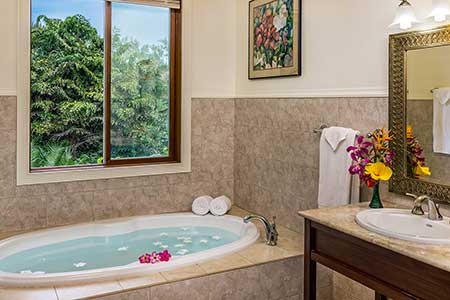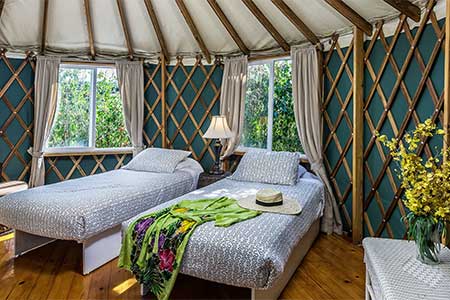 Cost and Sign Up
All participants must be 21 or over.
A $500 deposit is required to secure your spot or you may pay in full. The balance is due by January 10, 2024 to the retreat. You will receive reminder emails a few days prior to your balance due date. If you register after January 10, 2024, the full amount is required.
Shared rooms are for friends or family members traveling together only. If you are signing up with a friend or partner, please mention your friend's name on the registration form. If you are traveling solo and would prefer to share a double or triple occupancy room with other guests, please contact us through the contact form below and we can try to match you with another guest.
Read more about the accommodations here and view photos.
$100 Early Bird Discount if you sign up before November 1, 2023! Use discount code EARLYBIRD at checkout. Not valid with other offers.
Register by January 10, 2024 to secure your spot!
All prices are per person, not per room.
Penthouse Ocean View Hotel Suite with private bathroom, large soaking tub and large balcony (1 available) - Single Occupancy (1 King Bed) - $3,095 per person, Double Occupancy (1 King) - $2,495 per person

Ocean View Hotel Suites with private bathroom, large soaking tub and balcony (3 available) - Single Occupancy (1 King Bed) - $2,895 per person, Double Occupancy (1 King or 2 Beds) - $2,395 per person, Triple Occupancy (1 King, 1 Twin) - $1,995 per person

Garden View Hotel Suites with private bathroom, large bathtub (6 available) - Single Occupancy (1 King Bed) - $2,795 per person, Double Occupancy (1 King or 2 Twins) - $2,295 per person, Triple Occupancy (3 beds) - $1,895 per person

Yurts with private toilet/sink (showers in shared bathhouse) (7 available) - Single Occupancy (1 King Bed) - $2,495 per person, Double Occupancy (1 King or 2 Twins) - $1,995 per person

Ocean View Bungalows with private bathroom and oceanfront patio (3 available) - Single Occupancy (1 King Bed) - $3,195 per person, Double Occupancy (1 King or 2 Full) - $2,295 per person
"Yoga is like music: the rhythm of the body, the melody of the mind, and the harmony of the soul create the symphony of life."
~ B.K.S. Iyengar
See also these upcoming retreats and events