Location
Blue Sky Retreat, Taos, New Mexico
Blue Sky Retreat is a historic, rustic, charming and comfortable family-run retreat center located in the heart of magical Taos, New Mexico. The center is 1.5 hours drive from Santa Fe (SAF) airport and 2.5 hours drive from Albuquerque airport (ABQ), and easily accessible by car, Mountain View Shuttle, Taos Rides Shuttle Service, or public bus from Santa Fe downtown.
Blue Sky Retreat is located in the enchanted beauty of Taos in the high desert of northern New Mexico. The property has an outdoor swimming pool and hot tub, a labyrinth and a mindful meditation path, and is situated on 3 beautiful acres of nature just 2 miles from Taos town square.
Just 2 miles from the lovely Taos downtown plaza, where there are lots of artistic galleries, museums, shops and cafes to explore, and a short drive from Ojo Caliente Hot Springs and Spa, nature hikes and natural beauty, Blue Sky Retreat is the perfect location to explore Taos, whilst also taking time to relas and retreat.
Average weather forecast in Taos, New Mexico in July is high 80s during the day and low 50s at night. You can find more details here.
Your Leader
Sally Mitchell, RYT 200 Hour Yoga Teacher, Certified Massage Therapist, ChiRunning and ChiWalking Instructor, Integrative Nutrition Health Coach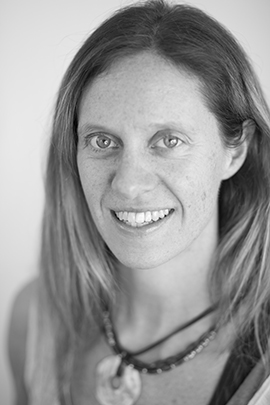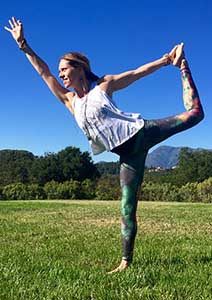 Sally is an inspiring teacher and healer, sharing with others the practices that have helped her to heal her own body and discover a path of transformation and greater self awareness.
Growing up in Scotland, Sally has been an athlete since childhood, always loving movement and fascinated by the human body, the power of the mind and the greater Universe. She is grateful to have the opportunity to inspire others to live a healthier and happier life and awaken to their inner desires and purpose, through the gifts of yoga, meditation, reflection, mindful movement, massage, energy healing and essential oils.
She looks forward to meeting you and being a part of your spiritual journey. Read more about Sally.
Tentative Schedule
The schedule below is subject to minor changes due to weather or other unforeseen circumstances.
Thursday
3.00pm - Arrivals and Checkin
5.00pm - Vinyasa Yoga, Summer Solstice Meditation and Reflection and Opening Circle
7.00pm - Dinner
8.00pm - Free Time (pool, hot tub, relax, journal)
9.00pm - Quiet time
Friday / Saturday
7.30am - Vinyasa Yoga and Guided Meditation
9.00am - Breakfast
10.15am (Saturday) - Group hike on Devisadero Loop trail
10.15am (Saturday) - Group trip to Black Rock Hot Springs
1.00pm - Lunch
Free Time (massage, relax, journal, town, pool, hot tub)
5.00pm (Saturday) - Yin Yoga and Yoga Nidra
5.00pm (Sunday) - Yin Yoga and Guided Meditation
7.00pm - Dinner
8.00pm - Free Time (pool, hot tub, relax, journal)
9.00pm - Quiet time
Sunday
7.30am - Vinyasa Yoga and Closing Circle
9.00am - Breakfast
11.00am - Checkout and Departures
What To Bring
Yoga mat, optional yoga props (blocks, strap, blanket, bolster), comfortable clothes for yoga and hiking, sturdy hiking or walking shoes, water bottle and/or hydration pack for hiking, flashlight, bathing suit for pool and hot tub, sun lotion and sun hat, warm and waterproof jacket or sweater for cool or wet weather, optional eye mask or small hand towel to cover eyes during meditations, face masks, hand sanitizer.
Note: Dogs and other pets are not permitted. The only animals that are allowed are certified service animals, accompanied by a person with a disability.
Accommodations
The rooms are all uniquely decorated and configured and all rooms have a private bathroom. Private or shared rooms are available. Some rooms have access to a patio terrace or a cozy fireplace. Shampoo, conditioner, soap, lotion, hairdryer and towels, are provided in every room. Read more about the different rooms here and view photos.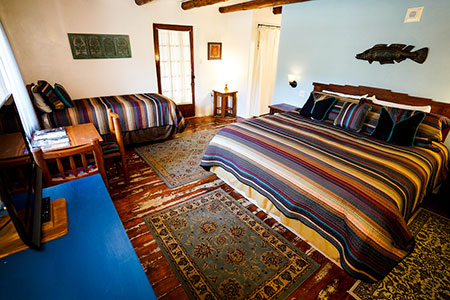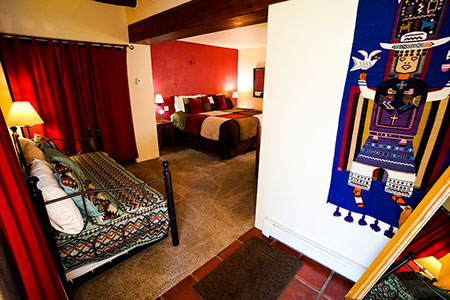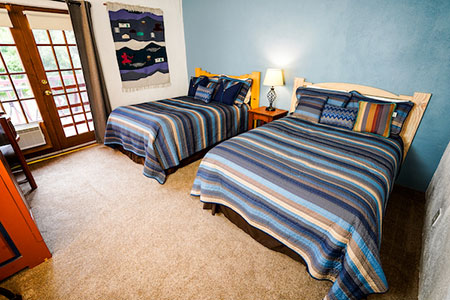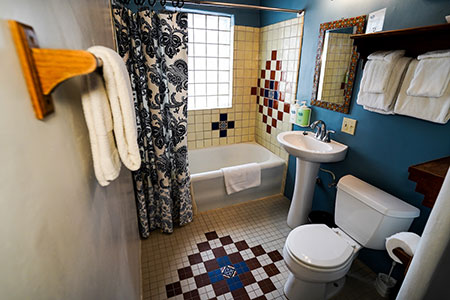 Cost and Sign Up
All prices are per person.
All participants must be 21 or over.
A $250 deposit is required to secure your spot or you may pay in full. The balance is due 70 days prior to the retreat. Your balance will be automatically charged to your credit or debit card on the balance due date. You will be notified by email a few days prior. If the retreat is less than 70 days from the date of registration, the full amount is required.
Enjoy a 5% Friend Discount when you register with a friend using discount code FRIEND5 at checkout.
Shared rooms are female only unless you are signing up with a friend or partner and booking the whole room. Rooms where bed sharing is required are only for friends or family members signing up together and filling the room. If you would like to share a room with a friend who is booking separately please mention their name on your registration form.
COVID-19 Policies - By registering for this retreat, all participants must agree to comply with the state and local rules at the time of the retreat regarding wearing face masks and social distacing.
All prices are per person.
Single Occupancy (private bathroom) - $1,295
Double Occupancy - 2 beds (private bathroom) - $1,095 per person
Double Occupancy - 1 King bed (private bathroom) - $995 per person (only for friends or family members sharing bed)
Triple Occupancy - 3 beds (private bathroom) - $945 per person
"We can never obtain peace in the outer world until we obtain peace within." ~ Buddha
"Yoga is the journey of the self, through the self, to the self." ~ The Bhagavad Gita