Location
Our retreat will be held at the stunning AHKi Retreat Center, located on the Pacific Northwest coast of Costa Rica, 20 mins drive from the beach, and 40 mins drive from Nosara, a small town on the beach, home of the internationally renowned Nosara yoga institute. We recommend flying into Liberia (Daniel Oduber Quiros International Airport). We will arrange pick up and drop off times on the days of arrival and departure.

AHKi is truly a sacred space, built specifically according to the ancient science of Vastu Shastra, "the yoga of space", invoking peace, wellness and harmony. A true, Vastu built dwelling helps to maximize the flow of positive, healing energy throughout.
Stunning covered, open air yoga studio overlooking the ocean, mountains and valleys, as well as the beautifully landscaped courtyard and mountainside
Outdoor infinity saltwater pool
Luxury spa for self-care
Yoga mats, blocks, straps, bolsters, blankets
Wine and beer available for purchase
Free wifi in the main house, no wifi in the cabanas
"AHKi is built to be in harmony with the incredible natural beauty that surrounds it. Karen has created a place that is, indeed, a sanctuary for the Soul. Every detail of this stunning retreat enhances your experience." ~ Satisfied Customer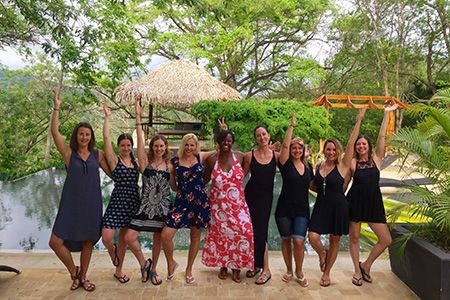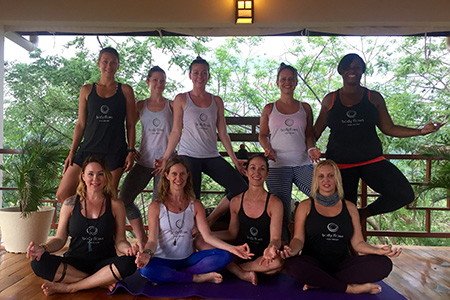 Getting There
Flights to Liberia (Daniel Oduber Quiros International Airport) (LIR) start around $450 round-trip from NYC, $500 round-trip from Chicago, and $550 round-trip from SFO or LAX. We recommend booking early to lock in a great flight deal! Check out Kayak or Cheaptickets for the best deals.
AHKi is 2 hours drive from Liberia Airport. Airport transfer is included on the start date of the retreat from the airport until approximately 2pm, and on the end date of the retreat leaving AHKi around 8am. On the retreat start date, the shuttle bus will arrive at the airport in time for the first flight arrival and will wait until the final arrival has come in or until 2pm, whichever is first. For flights arriving after 2pm we will help to arrange a shared taxi for additional cost. On the retreat end date, the shuttle bus will leave AHKi around 8am to take everyone back to the airport. For later flights on the start date and earlier flights on the end date, and if you will be arriving/departing on different dates, we can help to arrange a shared taxi for additional cost.
Your Leader
Sally Mitchell, RYT 200 Hour Yoga Teacher, Certified Massage Therapist, Reiki Practitioner, ChiRunning and ChiWalking Instructor, Integrative Nutrition Health Coach, and Essential Oils Educator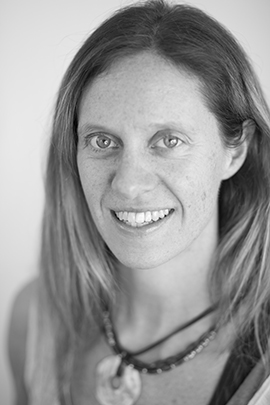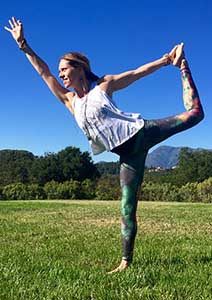 Sally began teaching and healing through yoga, natural running/walking techniques, massage, energy healing and health and wellness coaching to share with others what has helped her to heal her own body, and discover a path of transformation and greater self awareness. Her passion is to help people to move their bodies with greater ease and to awaken to their inner desires and passions, becoming happier and healthier. Through her own personal experiences and learnings, Sally also integrates personal transformation and wellness coaching, inspiring change, growth and a deeper sense of purpose.
Sally's yoga classes consist of flowing sequences, linking movement with the breath, incorporating both power and restorative poses, pranayama and meditation, for balanced, mindful and energizing practice. Read more about Sally.
Sally chose to lead a retreat in Costa Rica because the healing nature and progressive culture of Costa Rica aligns with so many of the things she believes in. Beautiful unspoilt nature, happy and friendly culture, and the ability to feel grounded and connected to Mother Earth. Alive with natural color and joy, Costa Rica is the perfect place to connect with nature and our deeper inner Self and purpose through yoga, meditation and reflection. Sally is also thrilled to go back to Costa Rica because it's where she did her yoga teacher training back in 2010, and deepened her practice and teachings of yoga. She's excited to share all this positive energy and inspiration with you!
"Spending a week in Costa Rica doing yoga with Sally was the best vacation I didn't know I was getting. I traveled alone and I just trusted that it would be great and I wasn't disappointed about anything. Sally's spirit and humor and kindness created just the right balance in a mindful but fun 7 day retreat and getaway, She made everyone comfortable and welcome. I recommend her to everyone who wants to enjoy themselves." - Kelly P, Costa Rica Yoga Retreat, April 2018
Tentative Daily Schedule
Check in from 4pm. Check out by 8am.
The retreat will begin on the day of arrival at 5pm with a welcome and opening circle, followed by dinner then yin yoga and guided meditation. The retreat will end on the day of departure with breakfast at 7am.
7.00am Vinyasa Yoga
8.30am Breakfast
10.00am Workshop (2-3 mornings)
12.30pm Lunch
1.00pm Free Time
5.00pm Yin/Restorative Yoga and Guided Meditation
6.30pm Dinner
8.00pm Evening Activity or Free Time
What To Bring
Yoga mats and all props will be provided, although you may bring your own if you wish. Please bring water bottle, alarm clock, flashlight, sneakers or walking sandals, insect repellent and after bite, tea tree oil for bites, sun lotion, bathing suit, shorts, t-shirts, sundresses, yoga clothes, sunglasses, camera, cash for all payment at the retreat center including massages, excursions, drinks, snacks (US$ are accepted throughout Costa Rica), small dollars for cash tis for drivers etc, passport, travel insurance documents, an open mind and your authentic and beautiful self!
Accommodations
Infused with simple elegance and just a short walk down from the main house, our six sizable, guest rooms can accommodate up to 3 people per room. All rooms have ceiling fans, large windows and doors, as well as plenty of overhead ventilation for optimal airflow. All rooms have private baths with large unique and luxurious indoor/outdoor showers, and patios and decks that command stellar views of the mountains and valleys.
Accommodations include: Private bathrooms with large, luxurious indoor/outdoor showers, fine linens, US style on-demand heaters for reliable, safe, environmentally-friendly hot water, handcrafted Costa Rican hardwood furniture, made by local artisans, daily housekeeping.
Shared rooms are single sex unless you are signing up with a friend (or multiple friends) and filling the room.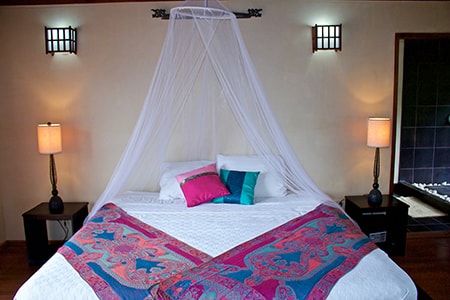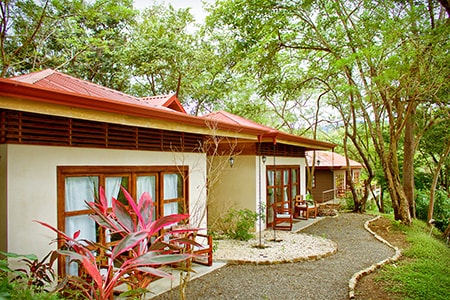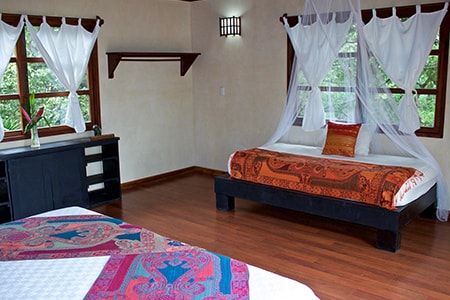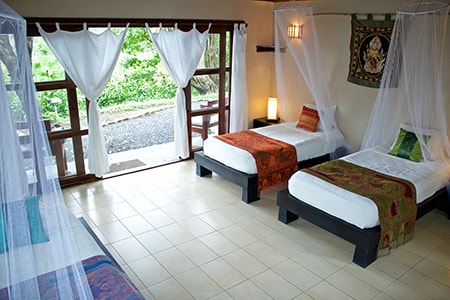 Cost and Sign Up
A $500 non-refundable deposit is required to secure your spot, with the balance due 90 days prior to the retreat date. Or you may pay in full at the time of booking. If the retreat is less than 90 days from the date of registration, the full amount is required.
All prices are per person.
If you are signing up with a friend or partner, please mention your friend's name on the registration form. If you are traveling alone, you may still sign up for a shared double or triple occupancy room if you wish and we will match you up with other traveler(s) of the same sex. Shared rooms are single-sex unless you are signing up with a friend or as a couple and booking the whole room.
Triple Occupancy: $1,595
Double Occupancy: $1,995
Single Occupancy (limited number available): $2,595
"Yoga is like music: the rhythm of the body, the melody of the mind, and the harmony of the soul create the symphony of life." ~ B.K.S. Iyengar