Location
Historic Retreat Center, Colorado
The retreat center, located in the heart of stunning red rock canyons and on six acres of terraced gardens and biodynamic farms. Surrounded by natural beauty, the intimate setting provides the perfect space for cultivation of a deep connection with nature and your inner self.
Walking distance from the quaint town of Manitou Springs with its artsy boutiques and culture, and walking distance from the Garden of the Gods, with it's stunning geographical red rock formations and hiking trails, this retreat is a truly special place for recharging and rejuvenating whilst also exploring and enjoying the outdoors. The healing SunWater Spa where we will spend 2 hours soaking in hot mineral water in cedar tubs, healing for mind, body and soul, is just 10 mins walk from the retreat center.
With a thriving farm onsite, the center takes sustainability and farm-to-table service seriously, with gluten free, organic, vegetarian and highly nutritious meals, and farm-fresh eggs gathered from onsite chickens daily. Dietary restrictions can be accommodated if known beforehand.
Just 1.5 hour drive from Denver Airport (DEN) and 25 mins drive from Colorado Springs Airport (COS), the retreat is easily accessible by car, taxi or airport shuttle. Coordination of airport car rental, car pooling, taxi or shuttle service can be coordinated for those who would like to share transport with other guests. This will be facilitated one month prior. Cost of car rental or airport transport is not included in the retreat cost. Driving directions will be provided to all guests beforehand.
Denver airport - 1.5 hours drive. The most economical option is a door-to-door service such as Transit Van Shuttle or Door to Door Shuttle. Cabs are also available from the Denver International Airport directly to the retreat center.
Colorado Springs airport - 25 mins drive and approx. $20-25 by Uber or Lyft.
Average weather forecast in Manitou Springs throughout the year can be found here.
Reconnect with yourself in the serene natural environment, explore the eclectic and historic downtown scene of Manitou Springs, or enjoy the local tourist attractions such as Garden of the Gods, Pikes Peak and the Cog Railway, the Manitou Incline, or the Cave of the Winds.
Client Testimonial: "Absolutely beautiful! It's an amazing retreat center focusing on sustainability and community. The beautiful gardens around the property provide delicious and nutritious food for the guests. The chef does a wonderful job preparing amazing food grown on the land and the entire staff is wonderfully welcoming. The lodging on the property is not only beautiful but also beautifully maintained. I highly recommend it for a private getaway or an inspiring retreat." ~ Shanti M, Boulder, CO
Your Leader
Sally Mitchell, RYT 200 Hour Yoga Teacher, Certified Massage Therapist, ChiRunning and ChiWalking Instructor, Integrative Nutrition Health Coach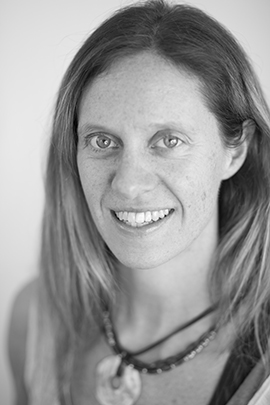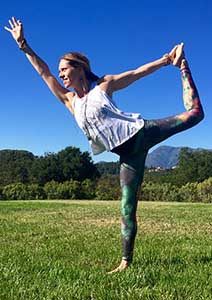 Sally is an inspiring teacher and healer, sharing with others the practices that have helped her to heal her own body and discover a path of transformation and greater self awareness.
Growing up in Scotland, Sally has been an athlete since childhood, always loving movement and fascinated by the human body, the power of the mind and the greater Universe. She is grateful to have the opportunity to inspire others to live a healthier and happier life and awaken to their inner desires and purpose, through the gifts of yoga, meditation, reflection, mindful movement, massage, energy healing and essential oils.
She looks forward to meeting you and being a part of your spiritual journey. Read more about Sally.
Tentative Schedule
The schedule below is subject to minor changes due to weather or other unforeseen circumstances. The yoga classes will be held at the beautiful SunWater Spa yoga studio, just 10 minutes walk from retreat center.
Thursday
4.00pm - Arrivals and Checkin
5.30pm - Vinyasa Yoga and Opening Circle
8.00pm - Dinner
9.00pm - Free Time (hot tub, relax, journal)
Friday / Saturday
7.30am - Vinyasa Yoga and Guided Meditation
9.30am - Breakfast
10.30am - Group Hike (Saturday - Garden of the Gods, Sunday - Red Rock Canyon)
2.30pm - Lunch
Free Time (massage, spa, town, hike, relax, journal)
6.00pm (Saturday) - Yin Yoga and Yoga Nidra
6.00pm (Sunday) - Restorative Yoga with Essential Oils and Sound Healing
7.30pm - Dinner
Sunday
7.30am - Vinyasa Yoga and Closing Circle
9.30am - Breakfast
11.00am - To Go Lunch
11.00am - Checkout and Departures
What To Bring
Comfortable gear for yoga and hiking, sturdy hiking or walking shoes, water bottle and/or CamelBak hydration pack for hiking, flashlight, bathing suit for hot tubs and mineral baths, sun lotion and sun hat, warm and waterproof jacket or sweater for cool or wet weather, optional eye mask or small hand towel to cover eyes during meditations, electrolytes, altitude sickness remedy if needed, face masks, hand sanitizer.
Note: Yoga mats, blocks, straps, bolsters, and blankets will be provided, or you may bring your own if you wish.
Note: Dogs and other pets are not permitted. The only animals that are allowed are certified service animals, accompanied by a person with a disability.
Accommodations
The rooms have a light, spacious and yet very cozy feel. All rooms feature luxurious bedding and include in-room bathroom suites, with organic cotton terrycloth bathrobes. Organic coffee and teas are available in the main kitchen to be enjoyed at your leisure. There are two lodges, Onaledge and Rockledge. Each room has adjustable heating. There is AC in each room in Rockledge and central AC in Onaledge. Shampoo, conditioner, body wash and hand soap are provided. Hair dryer can be provided upon request.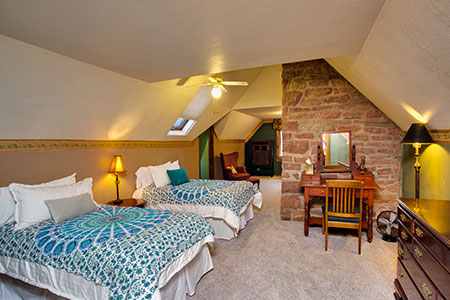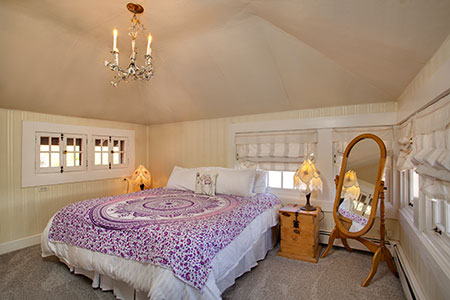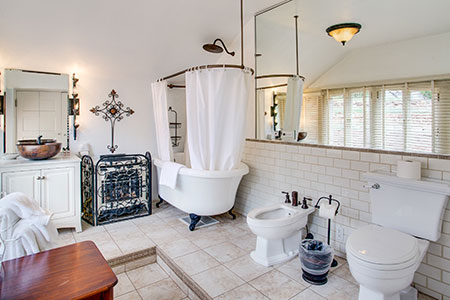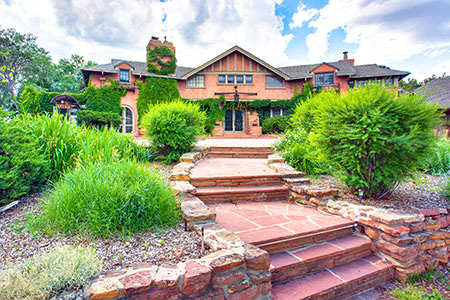 Cost and Sign Up
All prices are per person.
All participants must be 21 or over.
A $250 deposit is required to secure your spot or you may pay in full. The balance is due 2 months prior to the retreat. You will be notified a few days prior to the balance due date, with a link to make payment online. If the retreat is less than 2 months from the date of registration, the full amount is required.
If you are signing up with a friend or partner, please mention your friend's name on the registration form. If you are traveling alone, you may still sign up for a shared double, triple or quadruple occupancy room if you wish and we will match you up with other traveler roommate(s) of the same sex. Shared rooms are female only unless you are signing up with a friend or as a couple and booking the whole room, or signing up for single occupancy.
Pricing and Registration Coming Soon.
Note: Massages and other Spa Services MUST be booked beforehand. Click here to view and book an appointment at the SunWater Spa.
"We can never obtain peace in the outer world until we obtain peace within." ~ Buddha
"Yoga is the journey of the self, through the self, to the self." ~ The Bhagavad Gita