Location
Sierra Hot Springs, 521 Campbell Hot Springs Rd, Sierraville, CA 96126
Our Hot Springs Yoga Retreat will be held at the historic, charming and rustic hot-springs resort Sierra Hot Springs, st on a 700-acre property on the edge of Tahoe National Forest in Northern California. It is approximately 1 hour drive from Reno, 2.5 hours drive from Sacramento, and 45 mins drive from gorgeous Lake Tahoe. The naturally occuring mineral waters and healing land and energy at Sierra Hot Springs offer the perfect space to reflect, connect and restore. Whether you wish to go for a midnight soak under star-studded skies, or rise with the sun for a sunrise hike, the scenic surroundings will accommodate you!
All pools are open 24/7 for guests
Hot Pool (105-110 degrees) enclosed in a large geodesic dome, featuring stained glass and skylights
Warm Pool (98-100 degrees) with large sundeck
Meditation Pool (98-100 degrees) outdoors, surrounded by rock tile, and sand bottomed, ideal for enjoying the star studded skies
Phoenix Baths (85-90 degrees) inside private rooms, where the warm spring water is drained and refilled between users
2 Cold Plunge pools
Outdoor decks for lounging in the sun
Dry Sauna
Newly remodeled Spa
Over 700 acres of land bordering National Forest land, with lots of biking and hiking trails
WiFi is available in the main lodge
Note: There is a strict no alcohol policy on the property due to the risks of combining alcohol with soaking in 100+ degree waters and sauna.
Note: The pools are clothing optional. Our group will not have exclusive use of the resort so there may be members of the public using the pools and on property during our stay.
The closest airports are Reno-Tahoe (RNO) (1 hour drive), Sacramento (SMF) (2.5 hours drive), Oakland (OAK) (4 hours drive), San Francisco (SFO) (4 hour drive). Transport to/from the retreat is not included. Driving directions will be provided prior to arrival. The approximate driving distance from San Francisco is 3.5 hours.
Your Leader
Sally Mitchell, RYT 200 Hour Yoga Teacher, Certified Massage Therapist, ChiRunning and ChiWalking Instructor, Integrative Nutrition Health Coach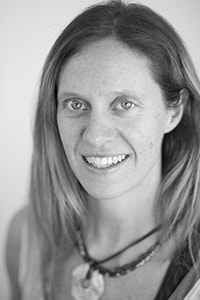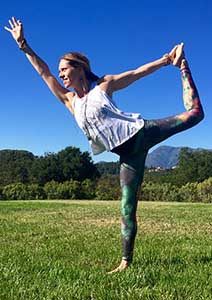 Sally is an inspiring teacher and healer, sharing with others the practices that have helped her to heal her own body and discover a path of transformation and greater self awareness.
Growing up in Scotland, Sally has been an athlete since childhood, always loving movement and fascinated by the human body, the power of the mind and the greater Universe. She is grateful to have the opportunity to inspire others to live a healthier and happier life and awaken to their inner desires and purpose, through the gifts of yoga, meditation, reflection, mindful movement, massage, energy healing and essential oils. She looks forward to meeting you and being a part of your spiritual journey. Read more about Sally.
Tentative Schedule
Friday
3pm-5pm Arrivals (check in from 3pm)
5pm-6.30pm Vinyasa Yoga and Guided Meditation
7pm-8pm Dinner
8pm-9pm Opening Circle
9pm Pools, Stargazing
Saturday
6.30am Coffee/Tea/Snacks
7am-9am Vinyasa Yoga and Guided Meditation
9am-10am Breakfast
10.30am-1pm Group Mindful Hike on property trails up to view over the valley (5 mile loop)
1pm-2pm Lunch
Free Time (soak, relax, meditate, massage, hike)
5.30pm-7pm Chakra Balancing Yin Yoga and Yoga Nidra
7pm-8pm Dinner
8pm Pools, Stargazing
Sunday
6.30am Coffee/Tea/Snacks
7am-9am Vinyasa Yoga and Meditation
9am-10am Breakfast
10.30am-11.30am Yoga in Daily Life Talk/Discussion
11.30am-12pm Closing Circle
1pm-2pm Lunch
2pm-5pm Free Time (soak, relax, meditate, massage, hike)
5pm Departures
What To Bring
Yoga mat (or you may use one of the retreat center's mats), optional blocks, strap, bolster, blanket, comfortable clothes for yoga and hiking, face masks, hand sanitizer, stainless steel or plastic water bottle (no glass allowed in the pool area), flashlight, alarm clock, journal, optional bathing suit for baths ('clothing optional' at the baths), towels for pool, optional bath robe or sarong, flip flops, sun lotion and hat for sun protection, warm and waterproof jacket or sweater for cool or wet weather.
Accommodations
Shared or Private rooms in the main Lodge or in the Globe Hotel rooms, a short 3-4 minute drive from the main Lodge. There are shared bathrooms and showers on the same level as the bedrooms, with shower gel, shampoo and conditioner provided. None of the bedrooms have their own bathroom. Towels are provided in every room. Please note there is a house cat that lives in the lodge so if you are allergic to cats you may wish to stay in one of the Globe rooms or camp instead of staying in the Lodge.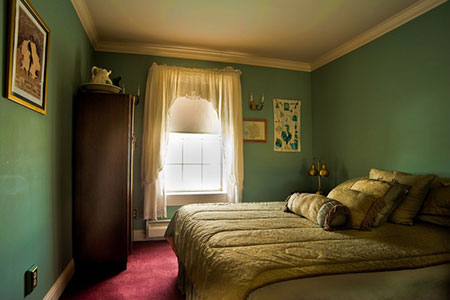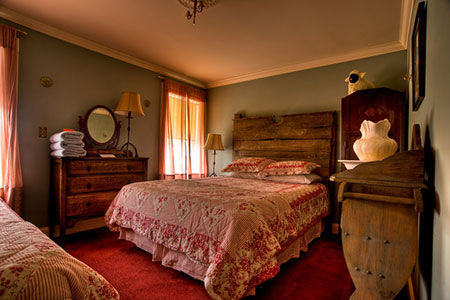 Cost and Sign Up
All prices are per person.
All participants must be 21 or over.
A $250 deposit is required to secure your spot or you may pay in full. The balance is due 2 months prior to the retreat. You will be notified a few days prior to the balance due date, with a link to make payment online. Your balance payment will automatically be charged on the due date if you have not paid it beforehand. If the retreat is less than 2 months from the date of registration, the full amount is required.
If you are signing up with a friend or partner, please mention your friend's name on the registration form. Shared rooms are reserved for friends or family members traveling together.
Lodge - Single Occupancy - $895 (1 queen bed) with shared bathrooms
Lodge - Double Occupancy - $825 (1 king or queen bed) with shared bathrooms - for friends or family members only
Lodge - Triple Occupancy - $795 (1 queen, 1 twin and 1 bunk over the queen bed) with shared bathrooms
Globe Hotel - Single Occupancy - 895 (1 queen bed) with shared bathrooms
Globe Hotel - Double Occupancy - $825 (2 beds) with shared bathrooms
Globe Hotel - Double Occupancy - $825 (1 queen bed) with shared bathrooms
Check Availability and Register for this retreat!
"Yoga is the journey of the self, through the self, to the self." ~ The Bhagavad Gita