Location
Lotus Feed Farm & Retreat, Occidental, Sonoma County, California
This retreat will be held at the fabulous Lotus Feed Farm and Retreat in Sonoma County, California, 1.5 hours north of San Francisco, surrounded by amazing nature and right in the middle of the fabulous Sonoma wine region.
The Lotus Feed Retreat Center at Taylor Maid Farms rests on 108 acres of vital Sonoma coast nature. Its diverse landscape provides the most exquisite and magical experience of raw and cultivated beauty, from the redwood, fir and oak forests, to the thoughtfully designed circle vegetable gardens that can be walked like a labyrinth. Ocean view ridge-tops overlook colorful and hidden creek beds. The Lotus Feed Retreat Center is blessed with a full palette of wonder, including a gorgeous swimming pond a short 1/4 mile from the main farm.
"Retreat inward to discover new pathways of connection to yourself and to the earth. Nourish your body with the ancient teachings of yoga and fill your mind with the inherent wisdom of the earth."
The closest airports are Sonoma County Airport (30 mins drive), San Francisco (SFO), Oakland (OAK) and Sacramento (SMF) Airports. SFO, OAK and SMF are approximately 2 hours drive from the retreat center. If you do not wish to rent a car, airport bus schedules from SFO and OAK to Sonoma county can be found here. The nearest bus station to get off at is Petaluma or Sonoma County Airport, 30-40 mins taxi or Uber to/from the retreat center. Coordination of transport to/from the retreat is not included. Driving directions will be provided a few weeks prior to arrival.
Your Leader
Sally Mitchell, RYT 200 Hour Yoga Teacher, Certified Massage Therapist, ChiRunning and ChiWalking Instructor, Integrative Nutrition Health Coach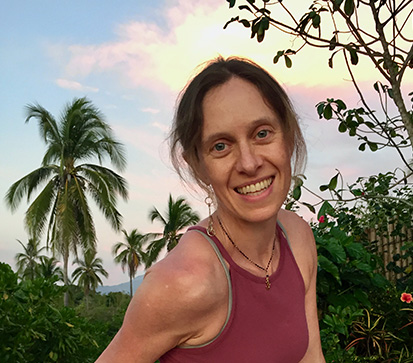 Sally is passionate about teaching and healing to share with others the practices that have helped her to heal her own body and discover a path of transformation and greater self awareness.
Growing up in Scotland, Sally has been an athlete since childhood, always loving movement and fascinated by the human body and the mind. She is so grateful to have the opportunity to inspire and coach others to become healthier and happier and awaken to their inner desires and purpose, through the gifts of yoga, meditation, mindful movement, massage and energy healing. She looks forward to meeting you!
Read more about Sally on her website.
Tentative Schedule
Thursday
3pm Arrivals
5.00pm Vinyasa Yoga
6.30pm Dinner
7.30pm Opening Circle and Wine Tasting
Friday and Saturday
7am - Sauna / Mindful Labyrinth garden walk
8am - Smoothies/Coffee/Tea
9am - Vinyasa Yoga and Meditation
11am - Brunch
12pm - Guided hike / Swim at Pond / Massage
4.30pm - Yin Yoga and Yoga Nidra
6.30pm - Dinner
7.30pm - Campfire & Wine Tasting
Sunday
8am - Smoothies/Coffee/Tea
9am - Vinyasa Yoga, Meditation and Reiki Circle
11am - Closing Circle
11.30am - Brunch
12.30am - Yoga in Daily Life talk/discussion
1.30pm - Free time
3pm - Departures
What To Bring
Yoga mat (blocks, straps, blankets, bolsters will be provided, and some mats are provided if you don't wish to bring your own), comfortable and loose fitting clothes for yoga and hiking, water bottle, flashlight, sun lotion, bathing suit for swimming in the pond, warm and waterproof jacket or sweater for evenings as we're outdoors on a farm!
Accommodations
Accommodations are rustic and chic, including yurts, yomes and bell tents. From luxury private yurts with 800 thread count organic sheets, equiped with vintage clawfoot bathtubs, to glamping in a lovely tent, this retreat center is designed for all levels of comfort. Bed linens and towels are provided in all yurts, yomes and tents. You may also bring your own tent and bedding and set up camp on the farm or sleep under the stars!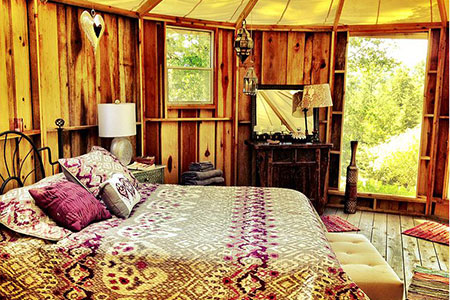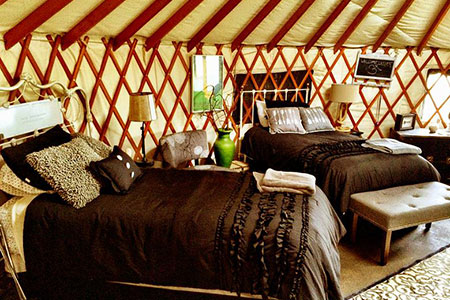 Cost and Sign Up
All prices are per person.
A $200 deposit is required to secure your spot or you may pay in full. The balance is due 2 months prior to the retreat. You will be notified when the balance is due. If the retreat is less than 2 months from the date of registration, the full amount is required.
Yurts
Quadruple Occupancy with 4 beds (private bathroom) - $695
Triple Occupancy Yurt with 3 beds (shared bathrooms) - $695
Double Occupancy Yurt with 2 beds (shared bathrooms) - $725
Tents
Private Tent with 1 double bed (single occupancy) (shared bathrooms) - $745
Private Tent with 1 double bed (double occupancy) (shared bathrooms) - $695
Double Occupancy Tent with 2 beds (shared bathrooms) - $645
Triple Occupancy Tent with 3 beds (shared bathrooms) - $645
BYO (Bring Your Own Tent and bedding or sleep under the stars!) (shared bathrooms) - $495
Mention your friend name on the registration form if you are signing up with a friend and would like to share a yurt or tent.
Read our client testimonials and feedback.
Please read our Body Flows Cancellation Policy.
Registration Coming Soon
We look forward to meeting you and sharing this wonderful journey of yoga and nature with you!
Please contact us with any questions via our Contact page.
Namaste,
Sally
"Yoga is the journey of the self, through the self, to the self." ~ The Bhagavad Gita
See also these upcoming retreats and events