7 Favorite Sonoma Hotels in Sonoma Valley Wine Country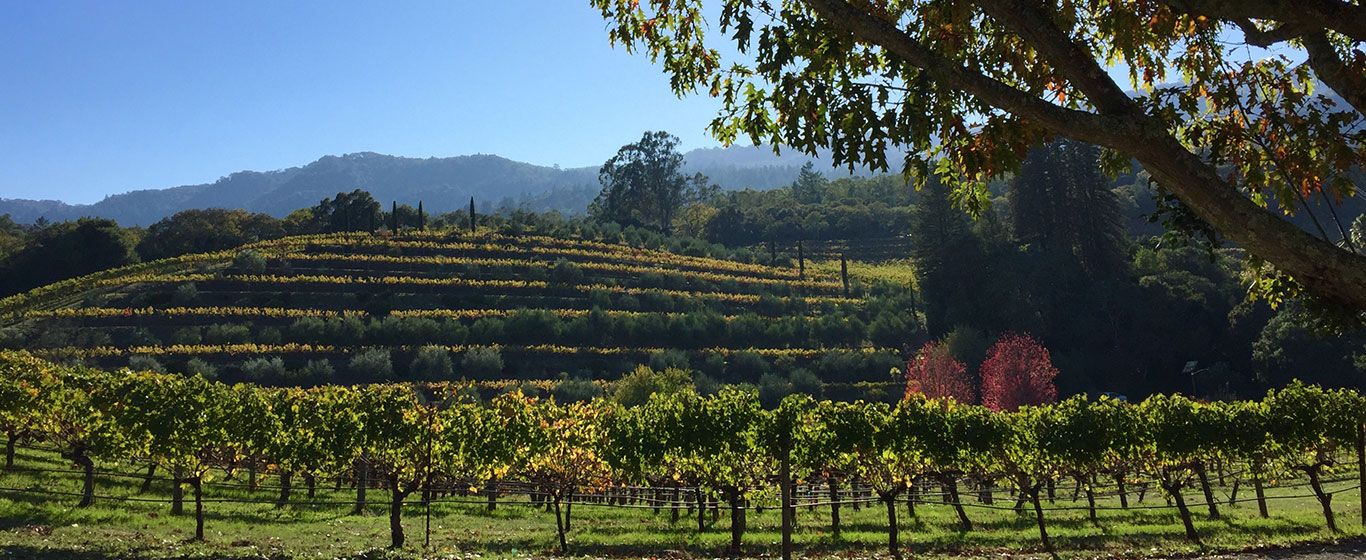 Photo compliment of Body Flows Retreats
Are you tired of researching and finding the perfect Airbnb or VRBO for your next Sonoma wine country vacation? Would it be nice to be welcomed by a human, assisted with your luggage, and shown to your room, like the old days? Would you like to have a concierge who can tell you about the local hot spots for sight-seeing, wineries, shops, restaurants, nature trails and more fun things to do around town and wine country? How about having a restaurant, bar, coffee shop, pool and hot tub right on property so you don't need to make your morning coffee or cook your own meals and you can relax in the hot tub after all the sight seeing and activities you'll be doing? After all, you're on vacation!
You can have all this and more if you check out and support one of these wonderful Sonoma hotels for your next wine country visit! We've put together a list of our favorite hotels in Sonoma Valley and we're happy to share this list with you.
We love these hotels for their conscious and eco-friendly attention to detail, their comfort and natural styles, and their warm and friendly staff that will welcome you to Sonoma valley.
1. Fairmont Sonoma Mission Inn & Spa, Sonoma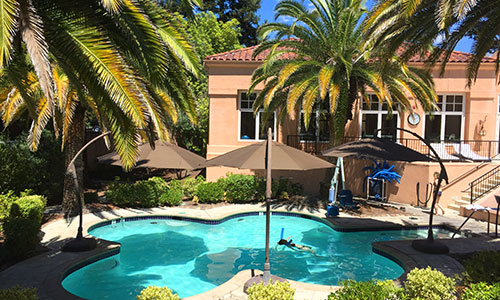 The luxury Fairmont Mission Inn and Spa Resort is well known and popular for its hot mineral baths, spa and watsu pool, a perfect place to relax the body and mind, and connect with the water element. Since the body is made up of approximately 60% water, it's important to stay connected to and spend time in or close to water as much as possible. The spa is located above an ancient thermal mineral spring, flowing from 1,100 feet below the surface. With a guest-only swimming pool and hot tub, hotel guests enjoy the privacy of a unique oasis in wine country, or can enjoy the spa that is open to both hotel guests and members of the pubic for daily use. Enjoy a complimentary day at the spa on your birthday! The Fairmont offers yoga classes, water yoga classes, fitness classes and daily afternoon complimentary wine tasting in the lobby for hotel and spa guests. Enjoy a mini retreat at this beautiful Spanish mission-style hotel and inn, with yoga, mineral springs and wine, a perfect wine country combination! Read more about the luxury Fairmont Sonoma Mission Inn & Spa or arrange a visit.
2. MacArthur Place Hotel, Sonoma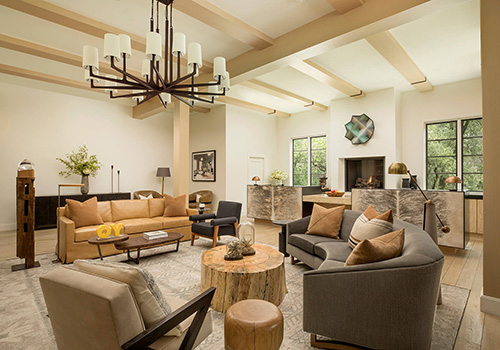 Photo compliment of MacArthur Place Hotel
An award winning hotel and spa in the heart of Sonoma wine country, The MacArthur Place Hotel is just 4 blocks and a short 10 minute walk from the historic Sonoma plaza, with it's boutique local shops, art galleries, restaurants, wine tasting rooms, cafes and lounge bars. Offering a weekly yoga class for both guests and locals, spa treatments and massages, a fitness center and outdoor pool, they promote a healthy lifestyle in wine country. Their boutique store in the cafe The Porch at the front of the hotel sells Ayurvedic, sustainable, biodynamic, and health-conscious products for healing and connecting mind, body and soul. A few of our favorites are their P&T Ayurvedic herbal teas, Moon Juice brain dust, Vybes hemp drinks, Hu vegan paleo chocolate, and a variety of other unique and conscious products, all handcrafted with love and carefully selected by their in-house marketing team. Recently renovated, the hotel bedrooms, lobby, bar and beautiful Layla's restaurant have a unique, modern and natural style, with lots of natural light, to help you feel spacious, clear-headed and right at home during your stay in this exquisite wine country hotel! Read more about the luxury MacArthur Place Hotel or arrange a visit.
3. Olea Hotel, Glen Ellen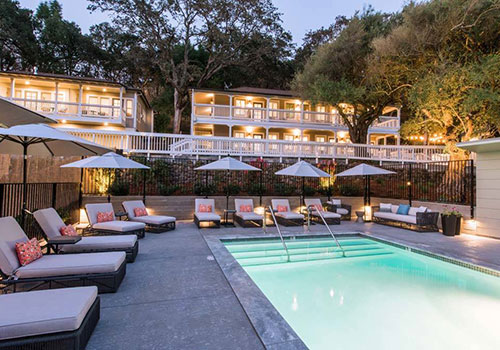 Photo compliment of Olea Hotel
The elegant, adult-only Olea Hotel is a luxury boutique hotel that is perfect for an intimate or romantic getaway, with just 13 rooms and 2 cottages, for a peaceful atmosphere. Surrounded by oak and olive trees, in the heart of nature, sitting on a beautiful hillside in Sonoma valley with stunning views, and tucked away from the activity, the Olea Hotel is the perfect place to retreat in a peaceful and tranquil environemnt. Relax in the outdoor pool or hot tub, treat yourself to a massage or spa treatment, enjoy complimentary wine tasting in the lobby for guests only, and take a moment to relax, rejuvenate and renew with nature all around you. Gourmet breakfasts are included for all guests, including organic ingredients sourced from local Sonoma County vendors, so you can experience the best flavors of the Sonoma region. The Olea Hotel has some pet-friendly rooms as well so be sure to check out this hotel if you enjoy vacationing with your pet! Read more about the elegant Olea Hotel or arrange a visit.
4. The Lodge at Sonoma Renaissance Resort & Spa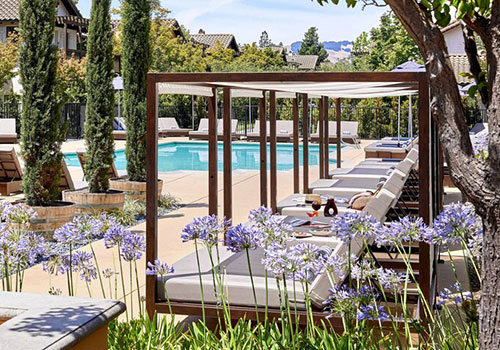 Photo compliment of The Lodge at Sonoma
The Lodge at Sonoma Renaissance Resort & Spa is another luxury yet health-conscious hotel in the heart of the town of Sonoma, just minutes from the town plaza. With regular yoga and fitness classes by local yoga instructors, guided hikes for hotel guests on local Sonoma hiking trails, bike rentals so you can explore wine country on 2 wheels, and private hike and wine tours, you'll be sure to stay healthy during your trip to wine country! Stunning palm trees welcome you to the Lodge so you feel you are in the midst of nature. Rooms offer picturesque and scenic views of the lush gardens, the outdoor heated pool and surrounding nature. This is the perfect spot to connect with nature whilst also being close to town. Relax in the pool, sip herbal teas in the spa relaxation room, or enjoy a customized massage or luxurious facial at the Raindance Spa, for a truly relaxing and healthy stay in wine country. Read more about The Lodge at Sonoma or arrange a visit.
5. El Dorado Kitchen, Sonoma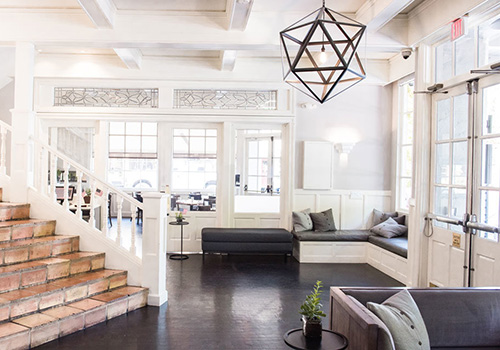 Photo compliment of El Dorado Kitchen
The Chic El Dorado Kitchen is a sophisticated yet relaxed hotel right on the Sonoma plaza, with a popular restaurant that serves contemporary California cuisine, and has an award-winning menu highlighting seasonal Sonoma ingredients. Enjoy a delicious meal on their tree-lined outdoor patio, cozy bar, or private dining room. If you're looking to stay in the heart of the attractive and active central town plaza, right next to the boutique shops, restaurants, wine tasting rooms and art galleries, El Dorado Kitchen is a great choice! Enjoy your morning coffee and gentle stroll around the largest plaza in all of California. Read more about the chic El Dorado Kitchen or arrange a visit.
6. Glen Ellen Inn, Glen Ellen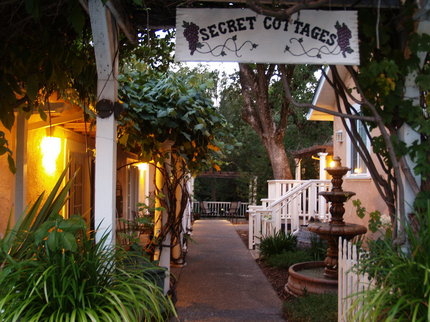 Photo compliment of Glen Ellen Inn
The Glen Ellen Inn has a lovely laid-back energy and is located in the historic and rustic downtown village of Glen Ellen, just 10 mins drive from Sonoma plaza. With 7 lovely private Secret Cottages, hidden behind the Inn's restaurant, and close to the Calabasas Creek, you'll get to enjoy an intimate and quiet stay in nature. Each cottage has its own fireplace and jacuzzi tub for you to truly relax and stay cosy in your own private space. Their restaurant's motto is "Taste the Sea, Eat the Farm, and Drink the Vineyard!", as they source fresh produce from a variety of local Sonoma vendors. If you're looking for a more private and relaxed vibe in Sonoma wine country, we highly recommend this hidden gem, Glen Ellen Inn. Read more about the historic Glen Ellen Inn or arrange a visit.
7. El Pueblo Inn, Sonoma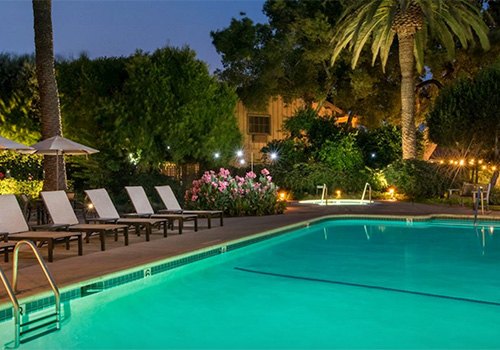 Photo compliment of El Pueblo Inn
El Pueblo Inn is a charming and affordable option if you are visiting Sonoma wine country, with comfortable Adobe-style rooms, and a short walk from the Sonoma plaza. Recognized as a Green Business, El Pueblo Inn has a tranquil courtyard garden, where palms tower above the gardens, and garden fountains that provide a calming atmosphere for the soul. Enjoy a few laps of the large outdoor swimming pool, relax in the lush gardens, and wind down in the evenings with a soak in the hot tub. Read more about the charming El Pueblo Inn or arrange a visit.

We partner with a few of these hotels for our Body Flows Corporate Retreats and are thrilled to invite you to Sonoma to stay in one of these lovely hotels, whilst enjoy yoga, mindfulness, meditation, nature, hiking, wine tasting and more. Staying in a calming and relaxing location is so important as part of any retreat or vacation in order to truly relax and rejuvenate. Bring your family, colleagues or friends and we look forward to hosting you in wine country!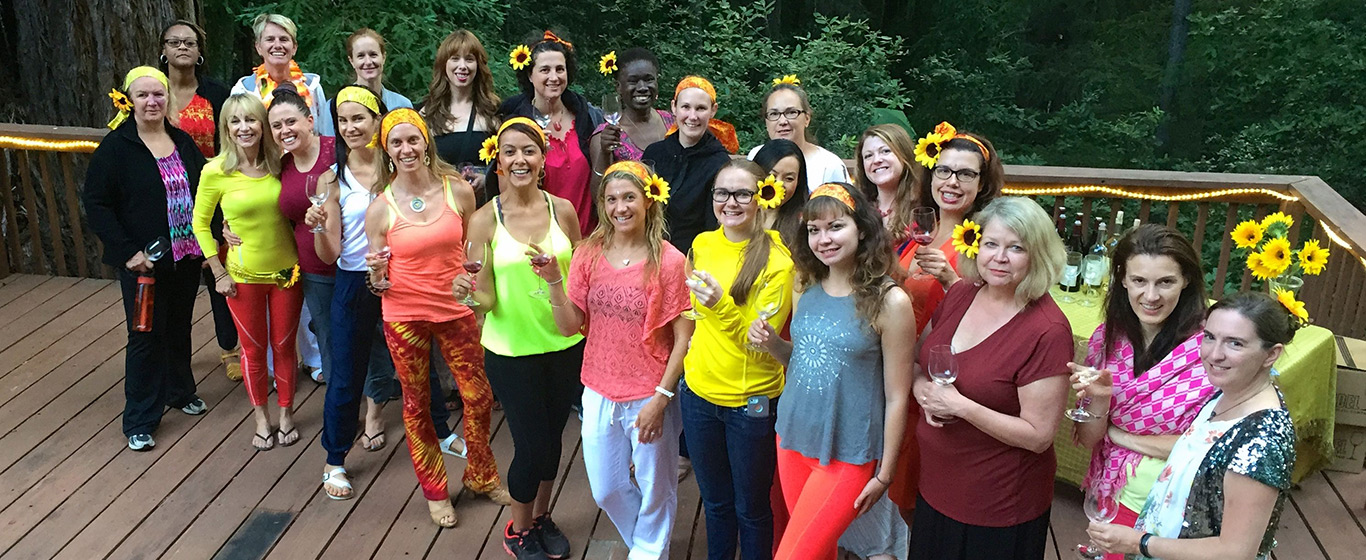 ---
If you have any questions or feedback on this article, please leave a comment in the comments section below. We'd love to hear from you!
Please also share this article with your friends and followers.
Author: Sally Mitchell, founder of Body Flows Yoga Retreats and RYT 200 Yoga Teacher leads yoga retreats in the USA, Mexico and Costa Rica. Living in beautiful Sonoma, California, after 15 years in NYC and San Francisco, her approach as a leader and teacher is holistic, balanced and grounded. She enjoys practicing and studying yoga, hiking and trail running in nature, traveling, writing, blogging and inspiring others to live a more spiritual and meaningful life.