Location
Sonoma Wine Country, California
The retreat will be held at a beautiful ranch in Sonoma, California, just 1 hour drive north of San Francisco and 5 minutes drive from Sonoma plaza, in the heart of breathtaking Sonoma wine country.
The ranch has a lovely rural feel and nestles amid stately oaks, surrounded by rolling grass hills and vineyards in Sonoma's Valley of the Moon. There is an onsite outdoor pool and hot tub soaking and relaxing after yoga or hiking. Delicious fresh, local, nutritious, sustainable and hand-made farm to table vegetarian food will be served 3 times daily, by wonderful cooks of the highest caliber, artists in their own right.
The closest airports are Sonoma County Airport (30 mins drive), San Francisco (SFO), Oakland (OAK) and Sacramento (SMF) Airports. SFO, OAK and SMF are approximately 1.5 hours drive from the retreat center. If you do not wish to rent a car, airport bus schedules from SFO and OAK to Sonoma county can be found here. The nearest bus station to get off at is Petaluma or Sonoma County Airport, 30 mins taxi or Uber to/from the ranch. Coordination of transport to/from the retreat is not included. Driving directions will be provided a few weeks prior to arrival.
Your Leader
Sally Mitchell, RYT 200 Hour Yoga Teacher, Certified Massage Therapist, ChiRunning and ChiWalking Instructor, Integrative Nutrition Health Coach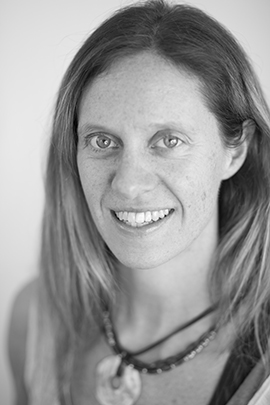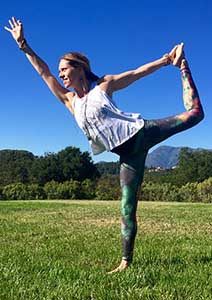 Sally is an inspiring teacher and healer, sharing with others the practices that have helped her to heal her own body and discover a path of transformation and greater self awareness.
Growing up in Scotland, Sally has been an athlete since childhood, always loving movement and fascinated by the human body, the power of the mind and the greater Universe. She is grateful to have the opportunity to inspire others to live a healthier and happier life and awaken to their inner desires and purpose, through the gifts of yoga, meditation, reflection, mindful movement, massage, energy healing and essential oils.
She looks forward to meeting you and being a part of your spiritual journey. Read more about Sally.
Tentative Schedule
The schedule and start times are subject to minor changes, depending on the weather. A final schedule will be distributed to all attendees prior to the retreat.
Friday September 18
4.00pm - Arrivals
4.45pm - Ranch Orientation
5.00pm - Vinyasa Yoga and Fall Equinox Meditation
6.30pm - Dinner
7.30pm - Opening Circle
Saturday September 19
7.00am - Vinyasa Yoga
8.30am - Breakfast
10.00am - Group Hike at nearby trail
12.30pm - Lunch
Free Time (pool, hot tub, hike, relax, massage)
4.00pm - Workshop (Mindfulness and Meditation)
5.15pm - Yin Yoga and Yoga Nidra
6.30pm - Dinner
7.30pm - Wine Tasting (hosted by local winery)
Sunday September 20
7.00am - Vinyasa Yoga
8.30am - Breakfast
9.30am - Check out of Room by 10am
10.00am - Workshop (Eight Limbs of Yoga and Yoga Sutras)
11.30am - Closing Circle
12.30pm - Lunch
Free Time (pool, hot tub, relax, hike)
2.00pm - Departures
What To Bring
Please bring: Yoga mat, comfortable and loose fitting clothes for yoga and hiking, hiking or walking shoes, water bottle, flashlight, bathing suit for pool and hot tub, sun lotion and sun hat, and warm and waterproof jacket or sweater for cool or wet weather. Optional items: yoga block, blanket, bolster, strap, eye mask or small hand towel to cover eyes during meditations, cash tip for your massage therapist, shampoo, conditioner and hair dryer if desired (there are no hair dryers and no shampoo/conditioner in the rooms).
Will be Provided: Body wash and soap is provided in the rooms.
Not Permitted: Dogs and other pets are not permitted on the property. The only animals that are allowed are certified service animals, accompanied by a person with a disability.
Accommodations
The cabin rooms are colorful and country style with a private bathroom per room. Each cabin has adjustable heating and air conditioning. Body wash and soap is provided. Please bring your own shampoo, conditioner and hair dryer if desired. There are 2 yurts available with private bathrooms nearby. There are heated blankets in the yurts.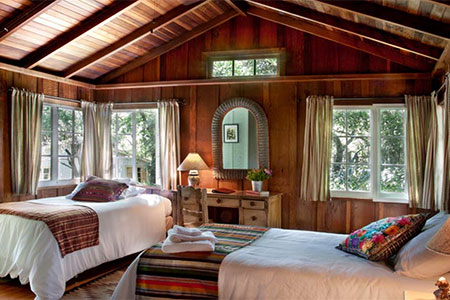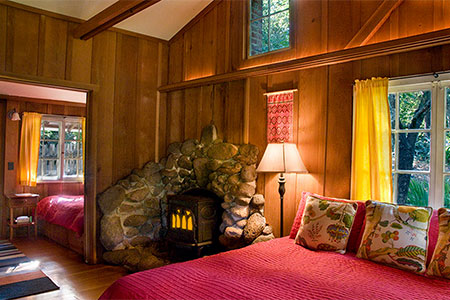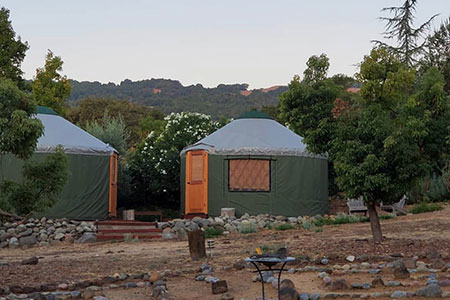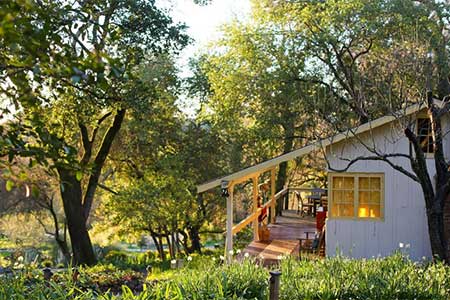 Cost and Sign Up
All prices are per person.
All participants must be 21 or over.
A $300 deposit is required to secure your spot or you may pay in full. A second installment of 50% of the remaining balance is due 70 days prior to the retreat, and the final balance is due 30 days prior to the retreat. You will be notified a few days prior to each installment due date, with a link to make payment online. If the retreat is less than 30 days from the date of registration, the full amount is required.
In order to comply with social distancing, only single occupancy private rooms are available. There are no shared room options for this retreat.
There are 18 private cabin rooms available, and 2 private yurts available. All cabin rooms and yurts have a private bathroom.
If you are signing up as a couple or with family members, you may share a room. However, the cost per person is the same as below. Please mention on your registration form that you are signing up with a partner or family member and would like to share a room.
Private Cabin - single occupancy (private bathroom) - $1,295
Private Yurt - single occupancy (private bathroom) - $1,195
Availability: Please click the button below to find out availability.
"Yoga is the journey of the self, through the self, to the self." ~ The Bhagavad Gita