Your Leaders
Sally Mitchell, RYT 200 Hour Yoga Teacher, Certified Massage Therapist, ChiRunning and ChiWalking Instructor, Integrative Nutrition Health Coach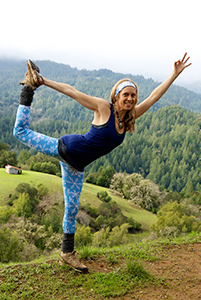 Sally is the founder of Body Flows. She helps runners stay injury-free by teaching them effortless and energy efficient ChiRunning, using gravity for propulsion and relaxing the legs. She teaches yoga to athletes, individuals and businesses all over the San Francisco Bay Area.
To help speed up recovery and prevent or heal sports injuries, Sally treats her clients through therapeutic and sports massage, assisted stretching, and Reiki energy healing, and teaches them how to use Trigger Point Therapy equipment for self recovery and myofascial compression.
Working with both professional and recreational runners and triathletes, Sally loves to share her knowledge and experience of these practices that have helped her to heal her own body after experiencing many injuries and health issues while training and racing as a competitive triathlete.
Read more about Sally on her website.
Caitlin Smith, Elite Runner, Running Coach, Pilates Trainer, Yoga Instructor, Doula, Artist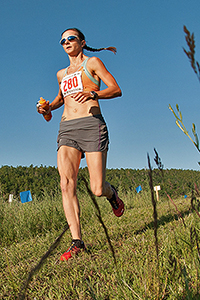 Caitlin is an elite road, trail and ultra runner, a running coach, pilates trainer, yoga instructor, doula, and artist. Having spent most of her life cultivating creativity, especially in the form of movement, growing up as a dancer, her curiosity about the human body has led her to follow this path, specializing in women's health, athletic rehab and running performance.
Her running career to date includes over 70 races, 42 1st place finishes, 26 course records and qualifying for the Olympic Marathon Trials. She is passionate about coaching others to train and race safely and successfully, helping them to reach their goals and their highest potential. Making sure it stays fun, she builds upon consistency, intensity and awareness while creating a plan that is flexible to one's individual needs.
Caitlin is thrilled to share with you her running inspirations, training and racing tips, pilates and core strengthening, and active isolated stretching techniques during this weekend retreat. Read more about Caitlin on her website.
Deanna Micros, Marathoner, Running Coach and Leader, Certified Personal Trainer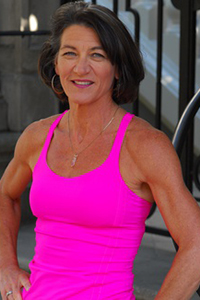 Deanna has been running for over 25 years. Her first of many marathons was the San Francisco Marathon in 1999. She has qualified and run Boston marathon multiple times, and raced competitively all over the world.
Her passion for running led her to create SF Scenic Running Tours, where she guides trail runs along the beautiful trails in Golden Gate Park, the Presidio, Lands End and Crissy Field.
Deanna is also a NASM Certified Personal Trainer and a USA Track & Field Certified Coach. Deanna also coaches high school cross country teams.
Read more about Deanna's Running Tour business, San Francisco Scenic Running Tours.
Tentative Schedule
Friday
12.00pm (Optional Add-On) Bike ride around Sonoma vineyards
4.00pm Arrivals
5.00pm Opening Circle & ChiRunning Intro
5.30pm Sunset Candlelit Yoga
6.30pm Dinner
7.30pm Wine Tasting and Social Evening
Saturday
7.00am Sunrise Pilates
8.30am Light Breakfast
10.00am ChiRunning/ChiWalking Instruction
11.00am Guided Trail Run or Hike
12.30pm Lunch
1.00pm Free Time
4.30pm Hike or Optional Run
5.30pm Sunset Candlelit Yoga
6.30pm Dinner
7.30pm Wine Tasting by local winery
Sunday
7.00am Sunrise Guided Run or Hike
8.30am Breakfast
10.00am Yoga / Active Isolated Stretching
11.30am Closing Circle
12.30pm Lunch
2.00pm Departures
2.00pm (Optional Add-On) Yoga in the vineyards at local winery followed by wine tasting
What To Bring
Yoga mat (and optional strap, blanket) - blocks will be provided, comfortable and loose fitting clothes for yoga, Pilates and core classes, running or hiking gear (including shades, hat), nutrition for runs as needed, water bottle, flashlight, sun lotion, bathing suit for pool and hot tub, warm and waterproof jacket or sweater for cool or wet weather, shampoo, conditioner and hair dryer if desired
Cost and Sign Up
All prices are per person.
A $200 deposit is required to secure your spot or you may pay in full. The balance will be charged 4 months prior to the retreat. If the retreat is less than 4 months from the date of registration, the full amount is required.
Shared rooms are female-only unless you are signing up with a friend or as part of a couple and sharing the room. Please message us via our Contact page if you would like to attend as a couple.
Shared Cabin - 2 beds per room (private bathroom) - $745 per person
Shared Cabin - 3 beds per room (private bathroom) - $695 per person
Shared Cabin - 4 beds per room (private bathroom) - $645 per person
Read our client testimonials and feedback.
Please read our Body Flows Cancellation Policy.
We look forward to meeting you and helping you with your running!
Please contact us with any questions via our Contact page.
Namaste,
Sally, Caitlin, Deanna
"The true runner's high is a zone that we enter when everything seems to click perfectly, when time stands still, and when we can run almost without effort." ~ Amby Burfoot, Winner of 1968 Boston Marathon
See also these upcoming retreats and events