Location
Sonoma Wine Country, California
The retreat will be held at a beautiful venue in Sonoma, California, just 1 hour drive north of San Francisco and 5 minutes drive from Sonoma plaza, in the heart of breathtaking Sonoma wine country.
The venue has a lovely rural feel and nestles amid stately oaks, surrounded by rolling grass hills and vineyards in Sonoma's Valley of the Moon. There is an onsite outdoor pool and hot tub soaking and relaxing after yoga or hiking. Delicious fresh, local, nutritious, sustainable and hand-made farm to table vegetarian food will be served 3 times daily, by wonderful cooks of the highest caliber, artists in their own right.
The closest airports are Sonoma County Airport (30 mins drive), San Francisco (SFO), Oakland (OAK) and Sacramento (SMF) Airports. SFO, OAK and SMF are approximately 1.5 hours drive from the retreat center. If you do not wish to rent a car, airport bus schedules from SFO and OAK to Sonoma county can be found here. The nearest bus station to get off at is Petaluma or Sonoma County Airport, 30 mins taxi or Uber to/from the venue. Coordination of transport to/from the retreat is not included. Driving directions will be provided a few weeks prior to arrival.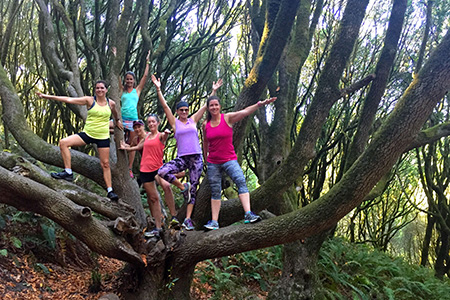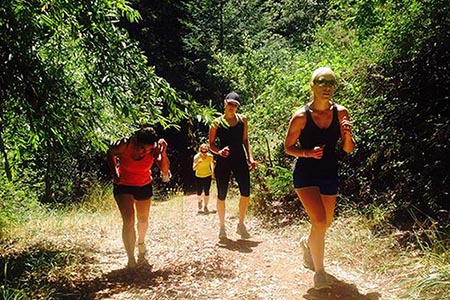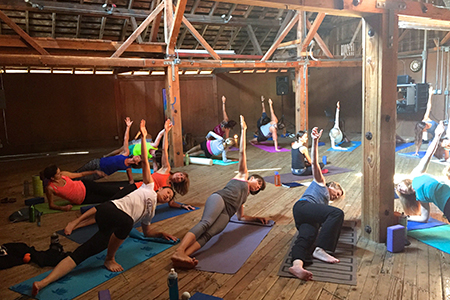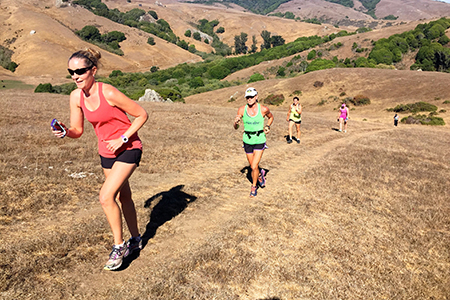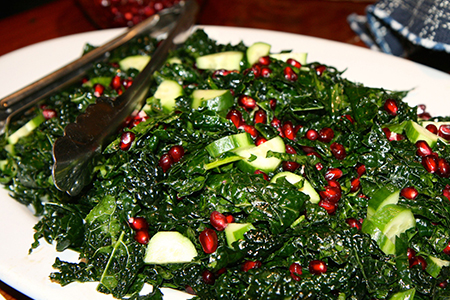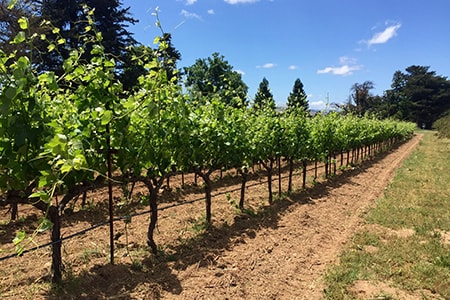 Your Leaders
Sally Mitchell - RYT 200 Hour Yoga Teacher, ChiRunning and ChiWalking Instructor, Running Coach, Certified Massage Therapist, Reiki Practitioner, Integrative Nutrition Health Coach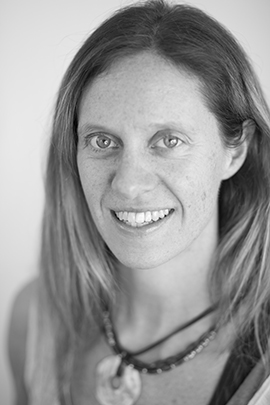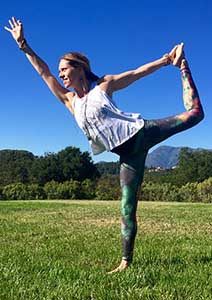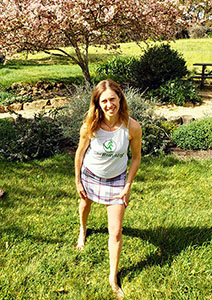 Sally is the founder and leader of Body Flows Retreats. As well as teaching yoga to all levels at Body Flows yoga retreats, Sally loves helping runners stay injury-free and run more efficiently with effortless and energy efficient ChiRunning and ChiWalking, using gravity for propulsion and relaxing the legs. Sally has been teaching yoga and ChiRunning for 10 years and works with runnners, wannabe runners, walkers, and those just looking to improve their health and fitness.
To help speed up recovery and prevent or heal sports injuries, Sally treats her clients through therapeutic and sports massage, assisted stretching, and Reiki energy healing, and teaches them how to use Trigger Point Therapy equipment for self recovery and myofascial release. Sally is passionate about teaching mindfulness and meditation to runners to help them stay present with every step and every breath, tap into their natural running flow state, and run with a mind of meditation.
She loves to share her knowledge and experience of the practices that have helped her to heal her own body after experiencing many injuries while training and racing as a competitive runner and triathlete. Sally has been running for over 25 years, and qualified for the Boston marathon and the Olympic and 70.3 Triathlon World Championships. When not teaching yoga or leading yoga retreats, Sally loves to trail run and hike on local Sonoma running trails in nature and travel to the mountains. Read more about Sally here.
Angela James - Master ChiRunning and ChiWalking Instructor, Team In Training Running Coach, 'Clear Your Beliefs' Coach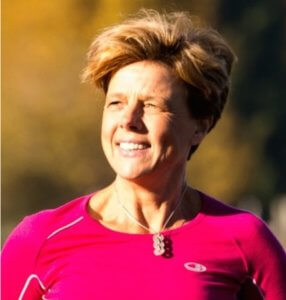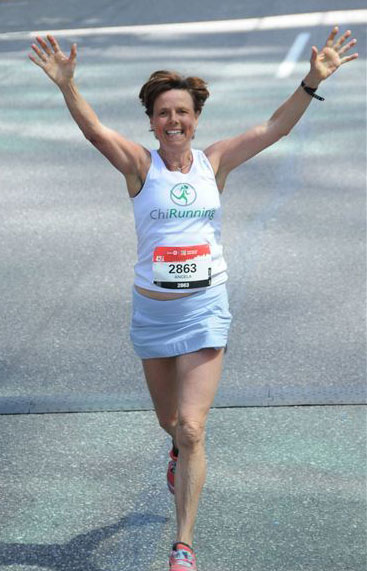 Since becoming Vancouver's first ChiRunning and ChiWalking instructor in 2009, Angela has worked her way towards becoming a Master ChiRunning and ChiWalking Instructor, under the teachings and wisdom of founder Danny Dreyer. She lives and promotes a healthful Chi lifestyle. With knowledge from her life's successes and healing from her share of athletic setbacks, Angela offers her clients a joyful and compassionate approach to life through Chi walking, running and living. The "chi" in the running and walking programs refers to a holistic approach not just to the practice of running or walking, but to the practice of life.
Over the years, Angela has run over 40 marathons, including Boston marathon in 2004, two unltramarathons, numerous half marathons, 10ks, and triathlons, from Olympic distance to full Ironman! Angela is also an avid ocean swimmer, cyclist and tennis player. Angela gets as much joy from helping the client who struggles against their limitations to get out and enjoy a Chi walk, as she does from training the high-performance runner to relax into the Chi and enjoy better and faster results with less effort.
Angela is also a certified Team In Training Marathon Running and Walking Coach, has been a guest speaker and teacher at Kripalu Center for Yoga & Health, Wanderlust Whistler and Squaw Valley (California) and the Omega Institute, and is an accomplished cellist, which is significant because she believes that Chi & cello complement each other in fluidity and alignment. Most recently, Angela became certified in the Clear Your Beliefs Coaching program, a powerful way to transform your life or any aspect of it by clearing self limiting beliefs. She looks forward to coaching and sharing this amazing practice with others.
Combining her passion for travel with the joy she gets from exercise in the great outdoors Angela is very excited about co-leading the Running, Yoga, and Wine Tasting Retreat in California and looks forward to meeting you!
Bryn Randolph Milton - RYT 200 Hour Yoga Teacher, ChiRunning and ChiWalking Instructor, Running Coach, Certified Massage Therapist, Reiki Practitioner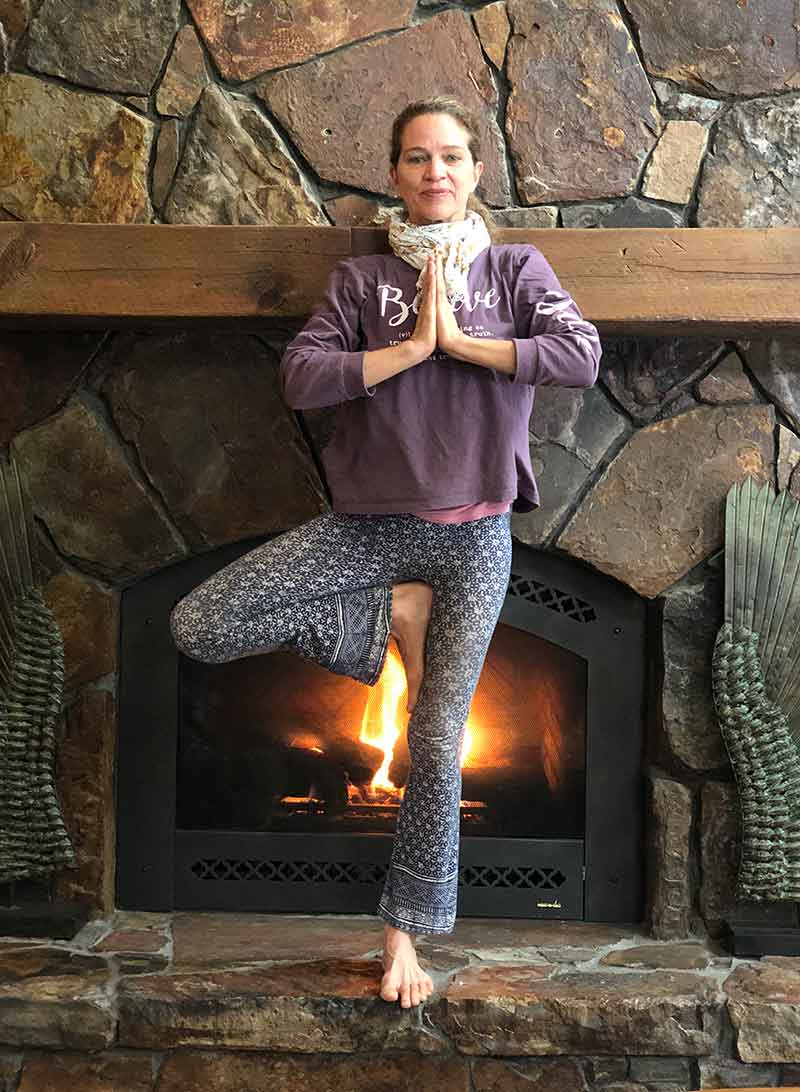 Fitness and running has always been a big part of Bryn's life, with fun runs as a kids, high school cross-country, track and field, NCAA D1 women's soccer, teaching step aerobics classes, running with the New York Harriers, and loving every minute of it. With her "no pain, no gain" motto, Bryn was destined for overuse injuries, until she found ChiRunning and became one of the first certified ChiRunning instructors in 2004. Her experience of running was truly transformed.
Bryn has led ChiRunning workshops in NYC, the central coast of California, and in her hometown of Bakersfield, CA. She loves when participants experience relaxed running for the first time. It's as though a light switch comes on! Bryn became a certified ChiWalking instructor in 2006 and a yoga teacher in 2007.
Her passion for wellness has led her down many paths including Reiki, massage therapy, sound healing, and most recently piloting a program called GoGirlGo where moms and daughters come together to discover mindfulness and wellness practices that promote the best version of themselves.
A typical day for Bryn now includes living and learning with her husband and daughters (8 and 12), loving on their 4 dogs, 3 cats, 2 rats and 80lb African Spur tortoise, teaching yoga, and getting a run in if she wakes up early enough! Bryn tells her daughters that wellness is a mountain with no top, so you'd better enjoy the climbing! She looks forward to meeting you and helping you with your running or walking!
Tentative Schedule
Friday
4.00pm Arrivals
4.45pm Venue Orientation
5.00pm All Levels Vinyasa Flow Yoga with Strengthening and Stretching
5.45pm ChiRunning and ChiWalking Workshop - Intro
6.30pm Dinner
7.30pm Wine Tasting and Opening Circle
Saturday
7.00am Morning Energizing Yoga with Core Strength
8.00am Light Breakfast
9.30am ChiRunning and ChiWalking Workshop - Part 1
10.30am Trail Run or Hike (options for 3-10+ miles)
12.30pm Lunch
1.00pm Free Time (massages, hot tub, relax)
4.15pm ChiRunning and ChiWalking Workshop - Part 2
5.15pm Optional Shorter Run or Hike
6.00pm Yin Yoga, Stretching and Trigger Point Therapy
6.45pm Dinner
7.30pm Wine Tasting by local winery
Sunday
6.30am Guided Run or Hike with ChiRunning and ChiWalking feedback
8.00am Breakfast
9.30am Nutrition, Recovery and Mindfulness for Runners Workshop
10.30am Yoga Blend of Vinyasa and Yin
11.45am Closing Circle
12.30pm Lunch
2.00pm Departures
What To Bring
Please bring: Yoga mat, comfortable clothes for yoga, running or hiking, running or hiking shoes, optional trigger point ball or foam roller if you have one, water bottle, flashlight, bathing suit for pool and hot tub, sun lotion and sun hat, and warm and waterproof jacket or sweater for cool or wet weather. Optional items: cash tip for your massage therapist, shampoo, conditioner and hair dryer if desired (there are no hair dryers and no shampoo/conditioner in the rooms).
Will be Provided: Yoga blocks, straps and cushions will be provided, although you may bring your own if you wish. Body wash and soap is provided in the rooms.
Not Permitted: Dogs and other pets are not permitted on the property. The only animals that are allowed are certified service animals, accompanied by a person with a disability.
Accommodations
The cabin rooms are colorful, and country style, and contain 2, 3 or 4 beds, with a private bathroom per room. Each cabin has adjustable heating and air conditioning. Body wash and soap is provided. Please bring your own shampoo, conditioner and hair dryer if desired. There are 2 yurts available with 2 twin beds in each, and 2 glamping style tents with 1 bed in each, with shared bathrooms nearby. There are heated blankets in the yurts and tents.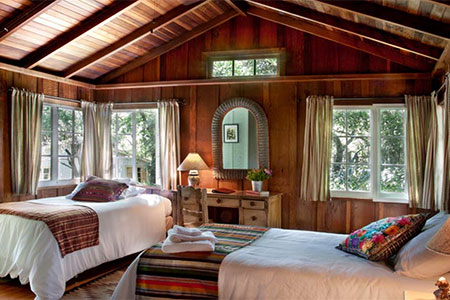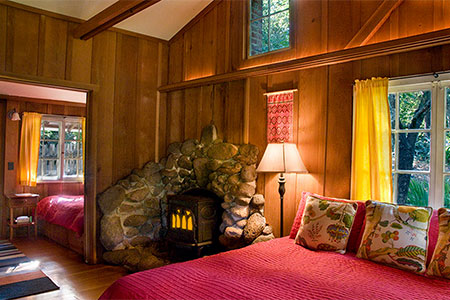 "What a great retreat, Sally! Many, many thanks for all the creative energy and attention to detail that you put into making such a great experience, and for bringing together such a fabulous group of people. Looking forward to crossing paths again!" ~Sara, satisfied customer
Cost and Sign Up
All prices are per person.
All participants must be 21 or over.
A $250 deposit is required to secure your spot or you may pay in full. The balance is due 2 months prior to the retreat. You will be notified a few days prior to the balance due date, with a link to make payment online. If the retreat is less than 2 months from the date of registration, the full amount is required.
If you are attending with a friend or partner, you may register together or separately. If you register separately, please mention your friend's name on the registration form that is on the second page of the booking system checkout system. If you are traveling alone, you may still sign up for a shared cabin if you wish and we will match you up with other traveler roommate(s) of the same sex. Please note that all shared rooms are female only unless you are signing up with friends or as a couple and booking the whole room, or signing up for single occupancy.
Shared Cabin - double occupancy (2 beds) (private bathroom) - $895 per person
Shared Cabin - triple occupancy (3 beds) (private bathroom) - $795 per person
Shared Cabin - quadruple occupancy (4 beds) (private bathroom) - $745 per person
Private Cabin - single occupancy (1 queen bed) (private bathroom) - $995 per person
Shared Yurt - double occupancy (2 twin beds) (shared bathroom) - $745 per person
Private Tent - single occupancy (1 queen bed) (shared bathroom) - $795 per person
Massage Sign Up: 60 min or 90 min massages may be booked at the time of registration or up until 7 days prior to the retreat, subject to availability, by logging into the booking system and paying for a massage add-on. Refer to the instructions here. All massages will be scheduled on the Saturday between 1pm and 4pm. We will attempt to schedule you at the same time as your friend(s) if you have signed up with friend(s), however it's not guaranteed as it's a tight schedule. The final massage schedule will be provided at checkin.
Check Availability and Register for this retreat!