Location
Wilbur Hot Springs, 3375 Wilbur Springs Road, Wilbur Springs, CA 95987
This retreat will be held at the natural and serene Wilbur Hot Springs in Northern California, just 2 hours drive north of San Francisco, in the heart of an 1800-acre nature preserve. The healing and naturally occuring mineral waters and beautiful land at Wilbur Hot Springs offer a unique opportunity to slow down, quiet the mind, reflect and reconnect with nature and your deeper self.
"In All the World, No Waters like These"
The rare and unique configuration of minerals in the hot springs water sets Wilbur apart from all other hot spring resorts and spas in Northern California. Experience these therapeutic waters that heal the body and soothe the soul!
Four hot spring flumes with temperatures ranging from 98-109 degrees
Dry cedar sauna
Outdoor swimming pool
Plenty of outdoor deck space for lounging and sunning
Daylight hiking and biking access to a private 1,800-acre nature preserve with miles of trails
Unique features include the Fountain of Life Geyser, Medicine Wheel, Wishing Tree, and Memorial Wind Chime Park
Outdoor ramada with picnic area and ping pong table
Large outdoor yoga deck/meditation area
Massage cabins with skilled massage providers offering 75-minute massages
Note: The baths at Wilbur Hot Springs are 'clothing optional'. Although this is a women's yoga retreat, our group will not have exclusive use of the resort so there will be members of the public using the baths and on property during our stay. We will have our own private dining room, outdoor deck and kitchen.
Wilbur's nature preserve includes peaceful valleys, panoramic ridges, and open meadows. Connect with nature through hiking, running, mountain biking, bird-watching and incredible stargazing at night.
There is no phone service and no wifi at Wilbur Hot Springs. Embrace this time to decompress and detox from all technology!
Wilbur's geothermal water contains three ounces of dissolved minerals per gallon and is entirely undiluted, untreated, and unheated, which is rare in North America. The average temperatures are 98, 105 and 109 degrees Fahrenheit. The minerals in the waters have positive therapeutic effects on skin diseases, asthma, neuralgia, arteriosclerosis, rheumatism and shoulder, neck, and wrist pains, pain relief, and depression, as well as detoxifying and mucolytic effects. The minerals present are sulfure, silica, metaboric acid and the most unique element of the geothermal water is lithium, which promotes a deeper state of relaxation.
"The blissful, calming, and cleansing qualities of the pure water, the beauty of the land, and the Zen link feeling of the place truly makes Wilbur heaven on earth." ~ Satisfied Customer of Wilbur Hot Springs
The closest airports are Sacramento (SMF) 1.5 hours drive, Sonoma County Airport (STS) 2 hours drive, San Francisco (SFO) and Oakland (OAK), both 2.5 hours. Transport to/from the retreat is not included. Driving directions will be provided prior to arrival.
Food
Our meals will be beautifully prepared and cooked by the wonderful traveling cook and food maven, Keri Keifer.
Keri believes that the best food is slow-cooked, love-imbued, rich in nutrients and texturally and colorfully vibrant. Her cooking style reflects the myriad experiences she has had in alchemy thus far: a university education in chemistry, formal training from Tante Marie's Cooking School in San Francisco, cultivating crops on organic farms, adventuring into herbalism and tending to fermented curiosities.
She uses seasonality, locality, diversity and beauty as her north stars, and each menu that she creates reflects the bounty and breadth of the local foodshed at a specific moment in time. It is her intention as a cook to not only nourish the body but also to reconnect the spirit to the land and its cycles.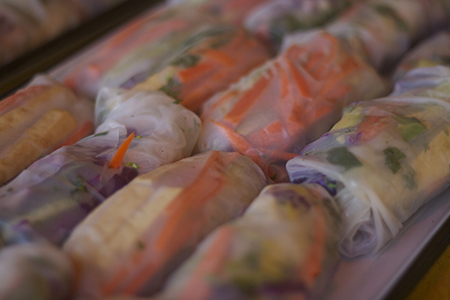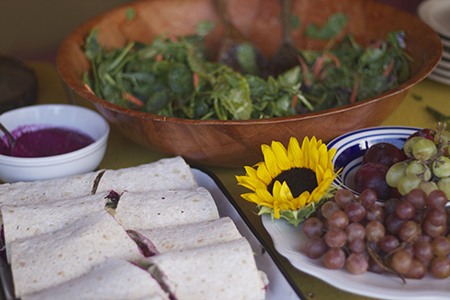 Your Leader
Sally Mitchell, RYT 200 Hour Yoga Teacher, Certified Massage Therapist, ChiRunning and ChiWalking Instructor, Integrative Nutrition Health Coach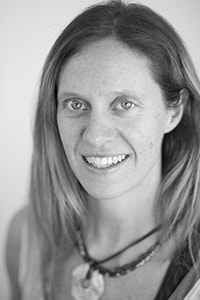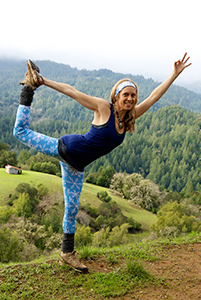 Sally is passionate about teaching, healing and sharing with others the practices that have helped her to heal her own body and discover a path of transformation and greater self awareness.
Growing up in Scotland, Sally has been an athlete since childhood, always loving movement and fascinated by the human body and the mind. She is so grateful to have the opportunity to inspire and coach others to become healthier and happier and awaken to their inner desires and purpose, through the gifts of yoga, meditation, mindful movement, massage and energy healing. She looks forward to meeting you!
Read more about Sally on her website.
Tentative Schedule
Friday
3pm Arrivals (check in from 3pm)
5pm Yoga
6pm Opening Circle
6.30pm Wine Tasting
7pm Dinner
8pm Baths, Sunset, Stargazing
Saturday
7am Yoga and Guided Meditation
9am Breakfast
10.30am Group Hike
1pm Lunch
Free Time (soak, relax, hike, massage)
4.30pm Yin Yoga and Yoga Nidra
6.30pm Wine Tasting by Beaver Creek Vineyards
7pm Dinner
Sunday
7am Yoga and Guided Meditation
9am Breakfast
10am Check out of room
10.30am Yoga in Daily Life
11.30am Closing Circle
12.30pm Lunch
Free Time (soak, massage, relax, hike)
5pm Departures
What To Bring
Yoga mat (or you may use one of the mats at the retreat center), optional blanket or bolster, comfortable and loose fitting clothes for yoga and hiking, water bottle, flashlight, bathing suit for baths ('clothing optional' at the baths), towels for baths and room, optional bath robe and flip flops, sun lotion and hat for sun protection, warm and waterproof jacket or sweater for cool or wet weather
Manduka yoga mats, blocks and straps will be available for use. You may bring your own if you wish.
Note: Dogs and other pets are not permitted. The only animals that are allowed are certified service animals, accompanied by a person with a disability.
Accommodations
Shared or Private rooms are available.
All showers are at the bath house. Soap and shampoo is provided. Please bring your own towels.
Wilbur is completely off-grid and generates its own electricity through solar power and back-up generators. To help conserve energy, please leave all electrical applicances, including hair dryers, at home. There are no power outlets in the rooms. If you have any special needs that require access to an electrical outlet, please let us know in advance.
Cabin: Private cabins feature one queen bed and half bath. The cabins may be single occupancy or double occupancy if you wish to share a bed. There is one cabin with one queen bed, one pull out sofa bed and half bath, for the option of triple occupancy. The pull-out sofa is in a separate room from the double bed, although they share a half bath.
Solar Lodge Private Room: Each room features a full-size bed on the ground floor, and an additional full or twin-size bed in a sleeping loft, which is accessible by ladder. Shared bathrooms with sink and toilet in the lodge. Comfortable for 2 people as double occupancy or 3 people as triple occupancy if 2 people share the full sized bed.
Solar Lodge Bunk Room: The bunk room features five comfortable single beds, 2 upper bunks, 2 lower bunks and 1 single bed in a semi-private sleeping loft accessible by ladder. Sheets, cased pillows and blankets are provided. If you would like extra bedding such as a sleeping bag or comforter, please bring your own. Shared bathrooms with sink and toilet in the lodge.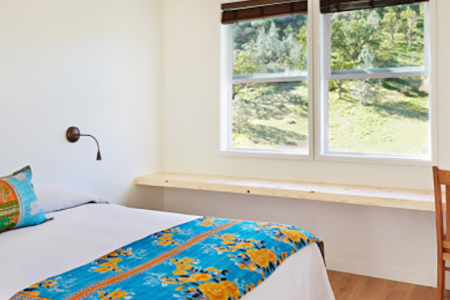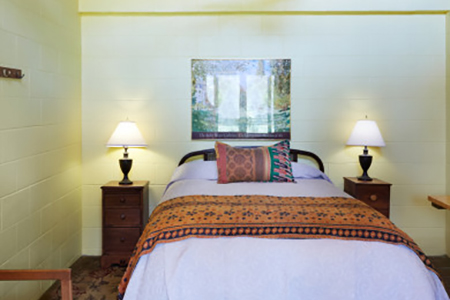 Cost and Sign Up
All prices are per person.
This is a women-only retreat.
All participants must be 21 or over.
A $200 deposit is required to secure your spot or you may pay in full. The balance is due 2 months prior to the retreat. You will be notified a few days prior to the balance due date, with a link to make payment online. If the retreat is less than 2 months from the date of registration, the full amount is required.
Use Discount Code FRIEND5 at checkout for a 5% discount if you sign up with a friend or partner.
Mention your friend or group's name on the registration form.
$695 per person - Solar Lodge double or triple occupancy (1 full bed and 1 twin bed) with shared bathrooms
$725 per person - Private cabin with 1 queen bed, double occupancy, with half bath (great for couples or friends)
$925 per person - Private cabin with 1 queen bed, single occupancy, with half bath
Availability: Click Register Now below to find out if we have availability for your desired lodging option.
Read our client testimonials and feedback.
Please read our Body Flows Cancellation Policy.
We look forward to meeting you!
Please email us with questions: sally@bodyflows.com
Namaste,
Sally
See also these upcoming retreats and events
"Yoga is the journey of the self, through the self, to the self." ~ The Bhagavad Gita