INTRO
SCHEDULE
LOCATION
LEADER
Day or multi day yoga events in wine country
at Bartholomew Park Winery, Sonoma, California
with Sally Mitchell (Yoga Teacher, Massage Therapist and Integrative Health Coach)
Great for bachelorette parties, corporates, family reunions or outings with friends.
We will work with you to customize your schedule and activities for your specific group.
Activities may include yoga, meditation or mindfulness for stress reduction, helping you to connect with nature, yourself and your friends or colleagues; hiking or trail running and learning the natural ChiWalking or ChiRunning techniques for pain-free walking and running; learning more about mindfulness or wellness during a wellness talk; and enjoying a nourishing lunch and wine tasting at a stunning winery in Sonoma, just one hour drive north of San Francisco!
An example schedule for a day event is included below. We love working with groups to design and create a unique experience that meets the group's goals and intentions and allows them to enjoy a fun day of movement, wellness and wine in Sonoma wine country! Contact us to learn more and discuss planning your custom event.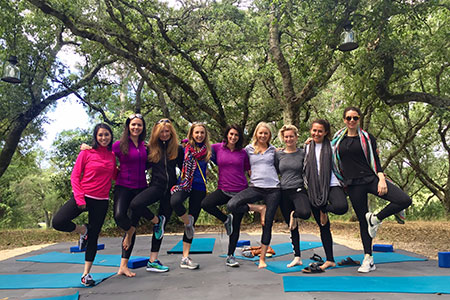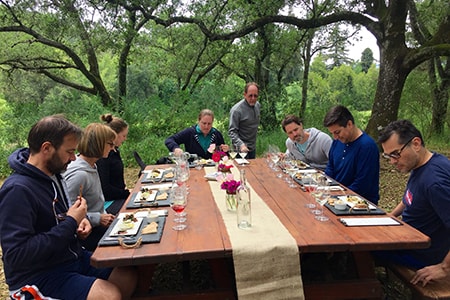 Example Day Retreat Schedule
10am - Arrivals and Gathering
10.30am - Morning Outdoor Yoga, Meditation and/or Breathing Exercises
Begin your day with some outdoor sun salutations and a gentle vinyasa flow yoga class in the stunning Oak Grove at Bartholomew Park Winery, available for all levels. The Yoga class will consist of creative flowing sequences, linking movements with the breath, moving your body through both yin and yang postures. Incorporating breathing, physical postures and meditation, you will experience a safe and nurturing practice, leaving you feeling relaxed yet energized. Options will be provided for varying abilities. Guided meditation and/or breathing practices may be taught instead of yoga.
11.30am - Opening Circle or Wellness Talk
Welcome, introductions, gratitude or wellness talk about mindfuless for stress reduction, nutrition, mindful and conscious living.
12.30pm - ChiWalking/ChiRunning and Mindful Hiking or Trail Running
Behind the winery is a beautiful 3 mile hiking trail in Bartholomew State Park with stunning views and a lake at the top. The trail is medium level terrain, available for all levels, although there are a few steeper and rocky sections so proper walking or hiking shoes are recommended.
At the start of the hike, Sally will lead a short ChiWalking/ChiRunning talk and demonstration, teaching natural and pain-free walking and running technique, reducing impact and injury, to allow us to walk or run more efficiently and faster with less effort.
2pm - Private Wine Tasting and Food Pairings
Hosted by Bartholomew Winery, you will taste 6 of their delicious wines, and enjoy a plate of nourishing food pairings, in the stunning Oak Grove.
Food pairings will include: Laura Chenel Goat Cheese w/Olive Oil, Carneros Caves Aged Manchego, Creminelli Finocchiona, Giant Lima Beans w/Herbs & Olive Oil, Grilled & Soy-Glazed Shiitake & Crimini Mushrooms, Castelvetrano Olives w/Chili Flakes & Orange Zest, and Spiced Marcona Almonds.
2pm - 4pm - Chair Massage
Chair massage sessions may be offered during the wine tasting and lunch.
4pm - Departures
"Thanks again for your continuing energy and passion in these amazing retreats. I have been to 4 of Sally's yoga retreats and each one has been amazing! The people I have met, the beautiful outdoor surroundings, the rejuvenating yoga, the delicious nutritious food geared to every level of dietary needs, and lastly, Sally's unwavering enthusiasm and passionate attention to make sure each and every detail is attended to. Highly recommend Sally's retreats!" ~ Judy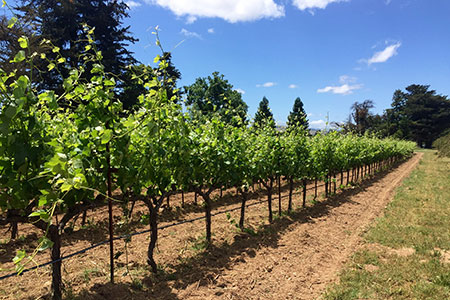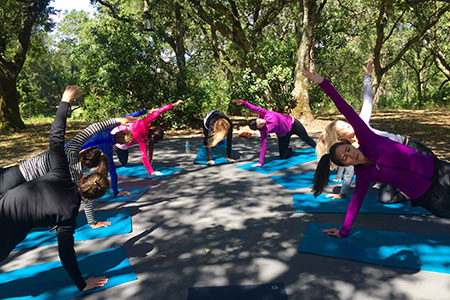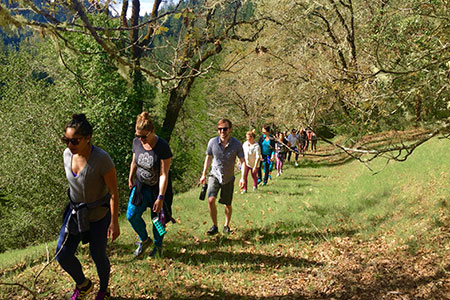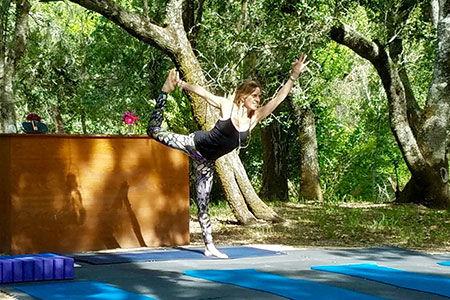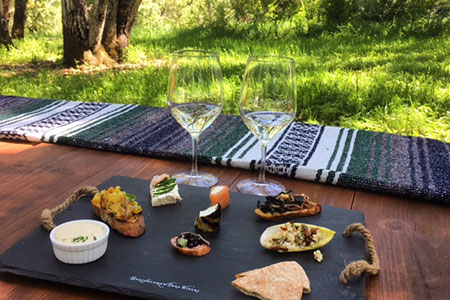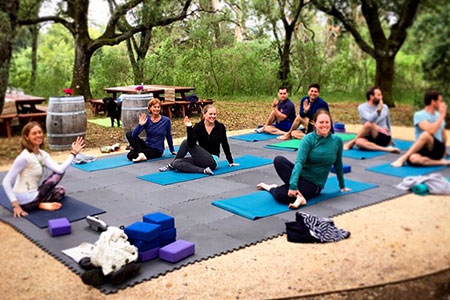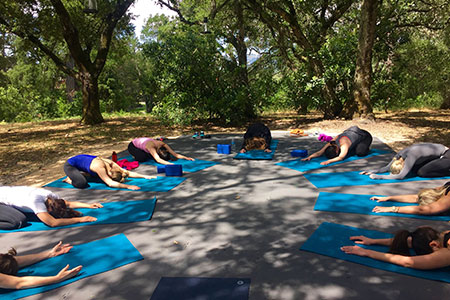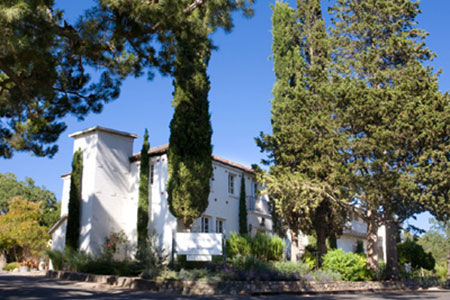 Client Testimonial: "What a great retreat, Sally! Many, many thanks for all the creative energy and attention to detail that you put into making such a great experience, and for bringing together such a fabulous group of people. Looking forward to crossing paths again!" ~Sara